This article explains how to manage groups and rights.
This article contains some features that are not included in all packages. More information on this can be found on our pricing page.
Depending on the selected subscription, one or more users can work in your presono instance. The rights of individual users can be restricted. To make the administration of users more efficient it is possible to combine several users in one group.
Add users
To add a new user, go to the settings (1) and select the tab "Users" (2). Then click on "New" (3) in the upper right corner to create a new user.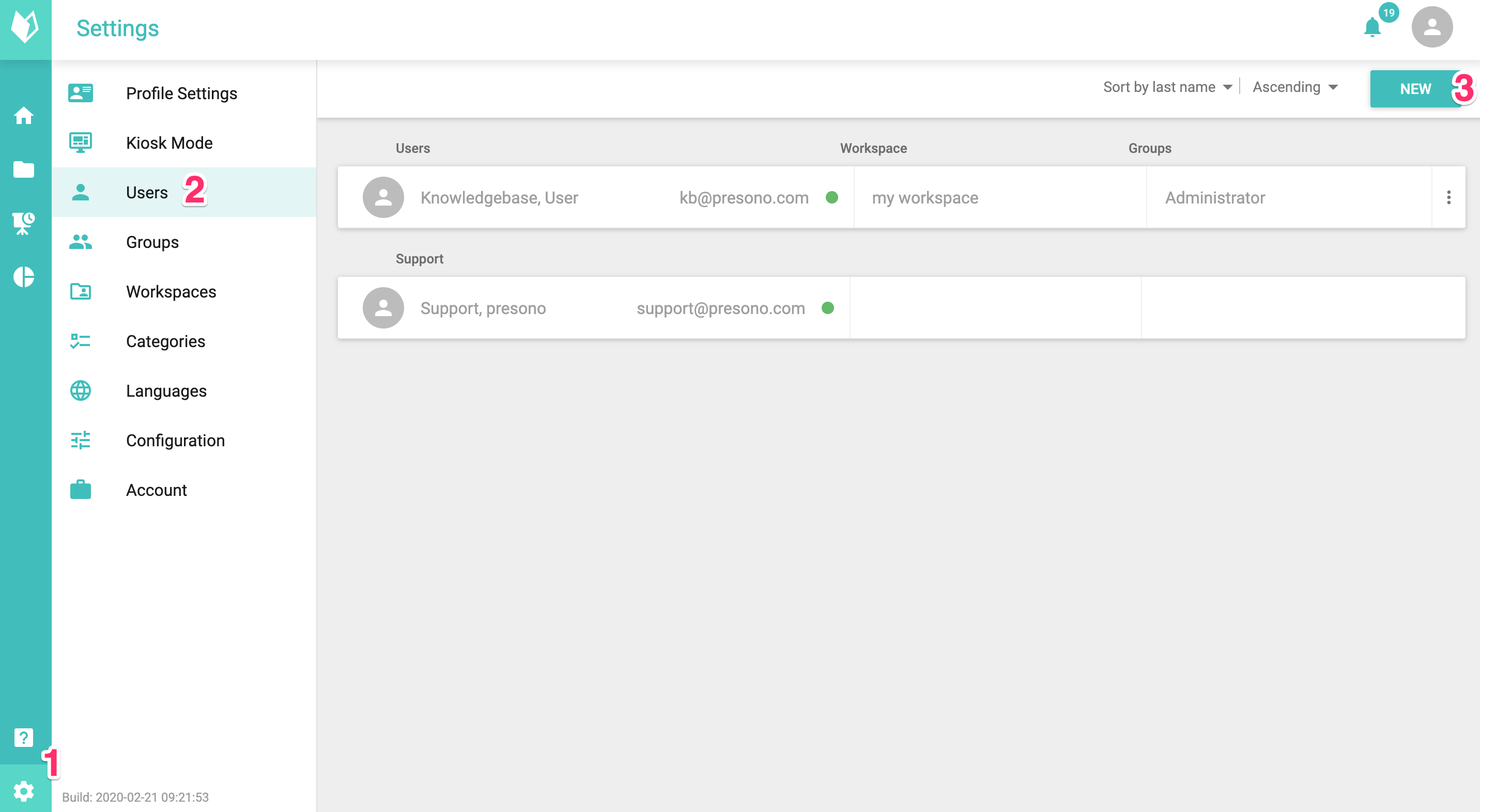 An overlay opens where you can enter the e-mail address (1) and the first and last name (2) of the user. You can also choose a group (3) (if it has already been created) to which the new user should be added. You can also select or deselect whether to create a separate workspace for the new user (4).
At the bottom left you have the possibility to add more users (5) - then the same mask (e-mail, group, first and last name) appears again.
When you are finished, click on "Save" (6). The new user will then receive an invitation by email.
If you no longer have any licenses to create new users, you can click on "+ Add licenses" (7) in the upper right corner.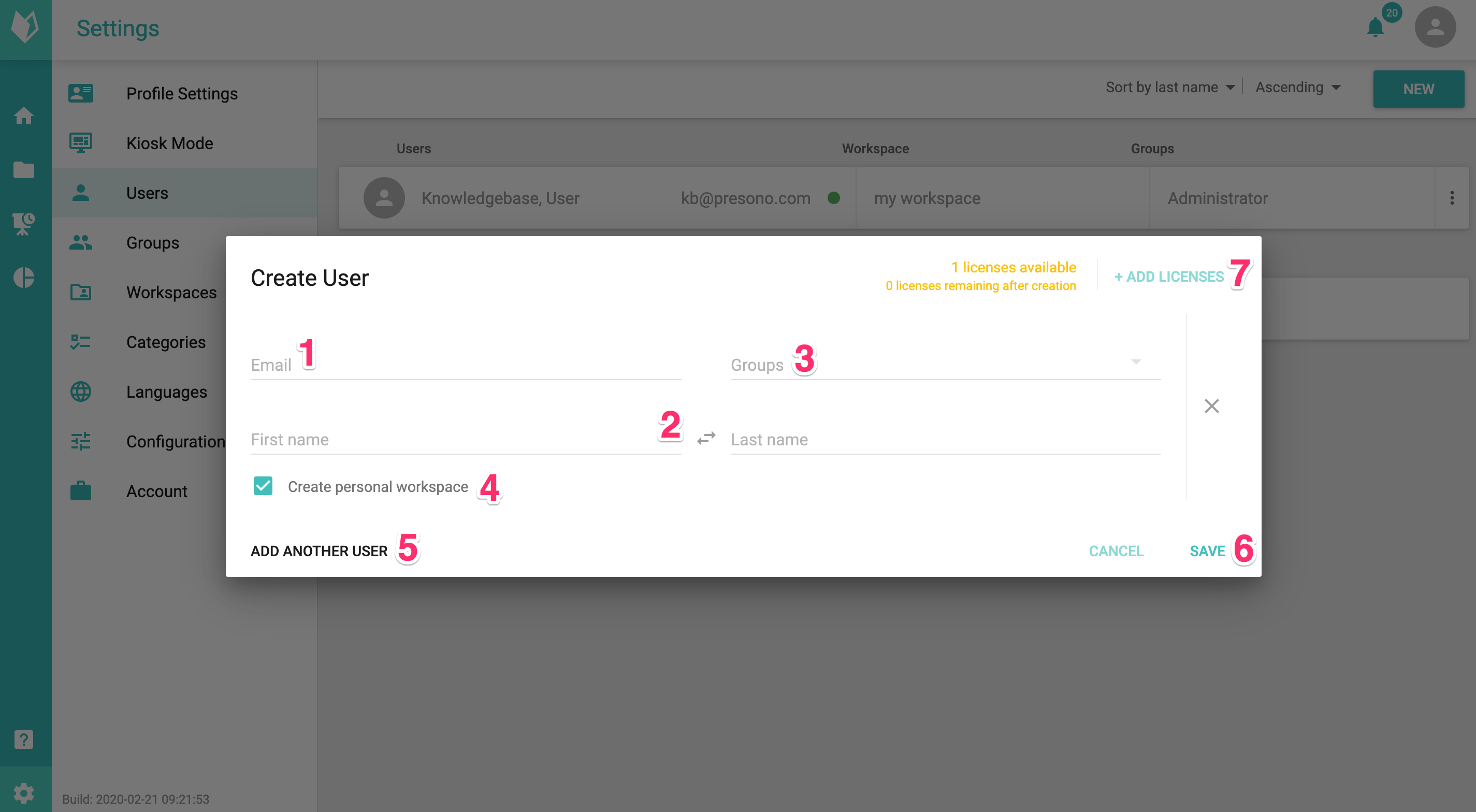 Delete user
If you have added a user, he will appear in the list. You can remove the user from the list under the three-point menu on the right.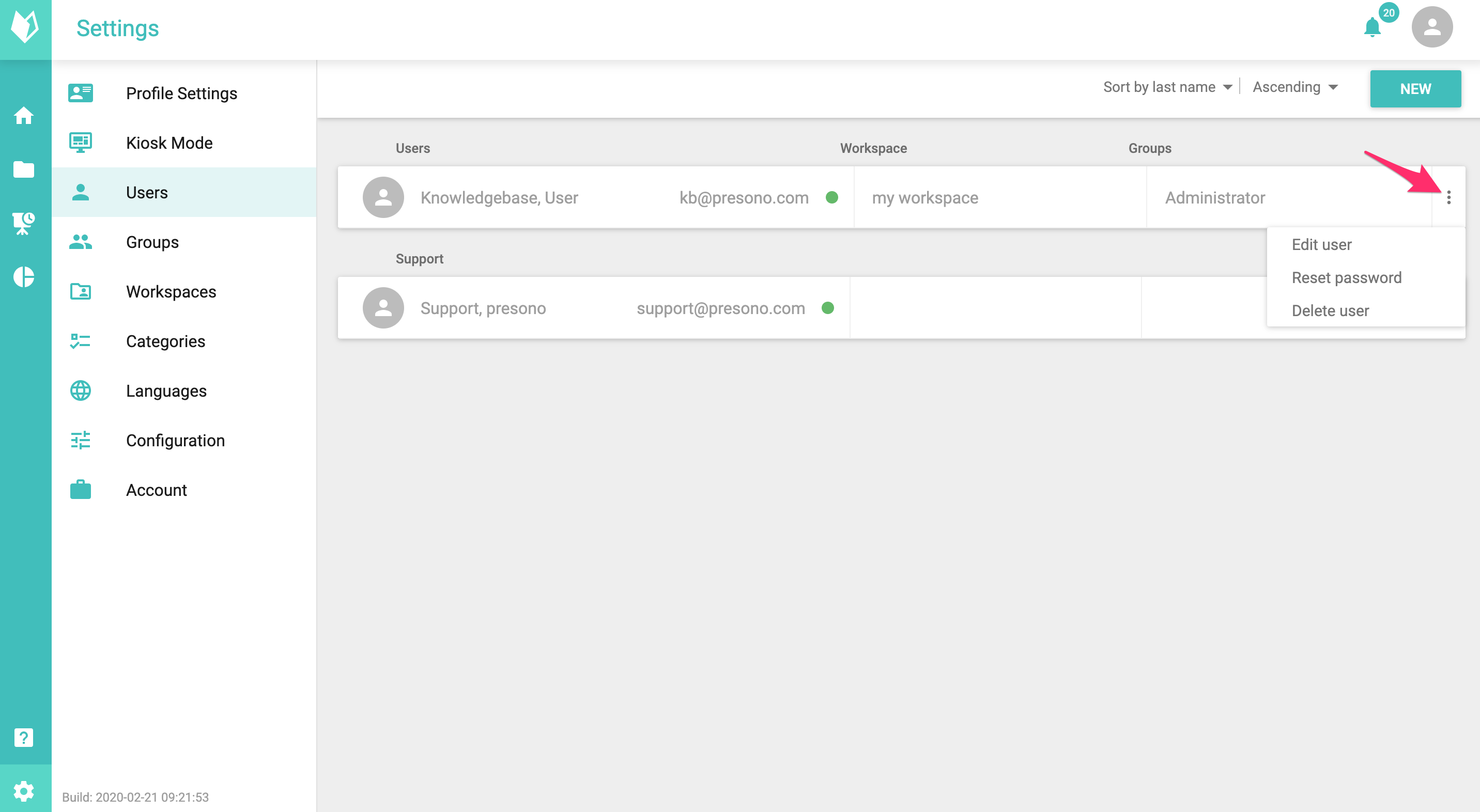 Create Group
To create a new group, click on the "Groups" tab (2) in the settings (1). Then click on "New" (3) in the upper right corner to create a new group.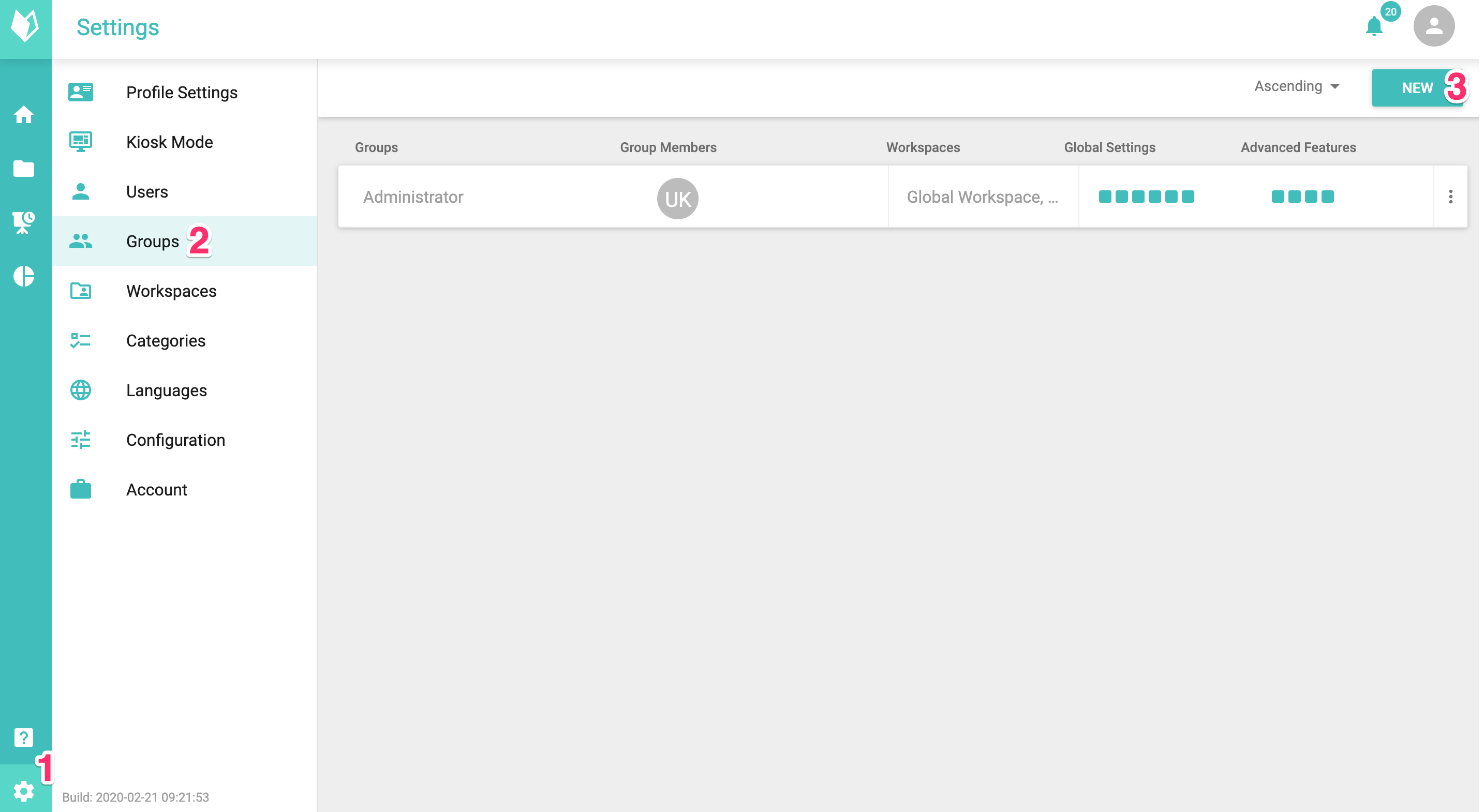 In the upper right corner you assign a name to the group (1). Then add the users (2) to your group (they have to be already created).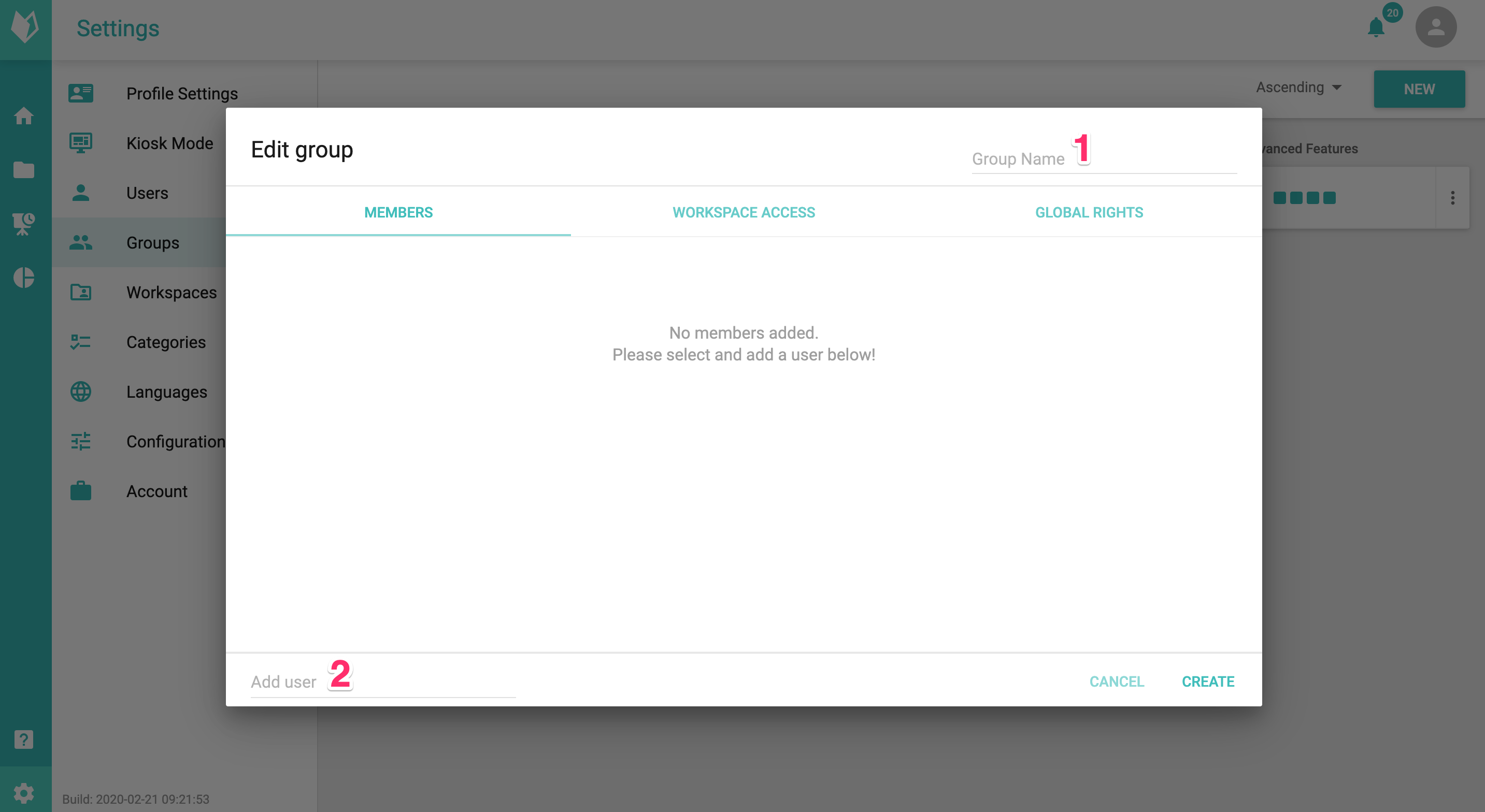 Workspace
Then click on "Workspace Access" (1) to assign a workspace to your group (this must already exist). Click on "Add to workspace" (2) in the lower left corner to select a workspace.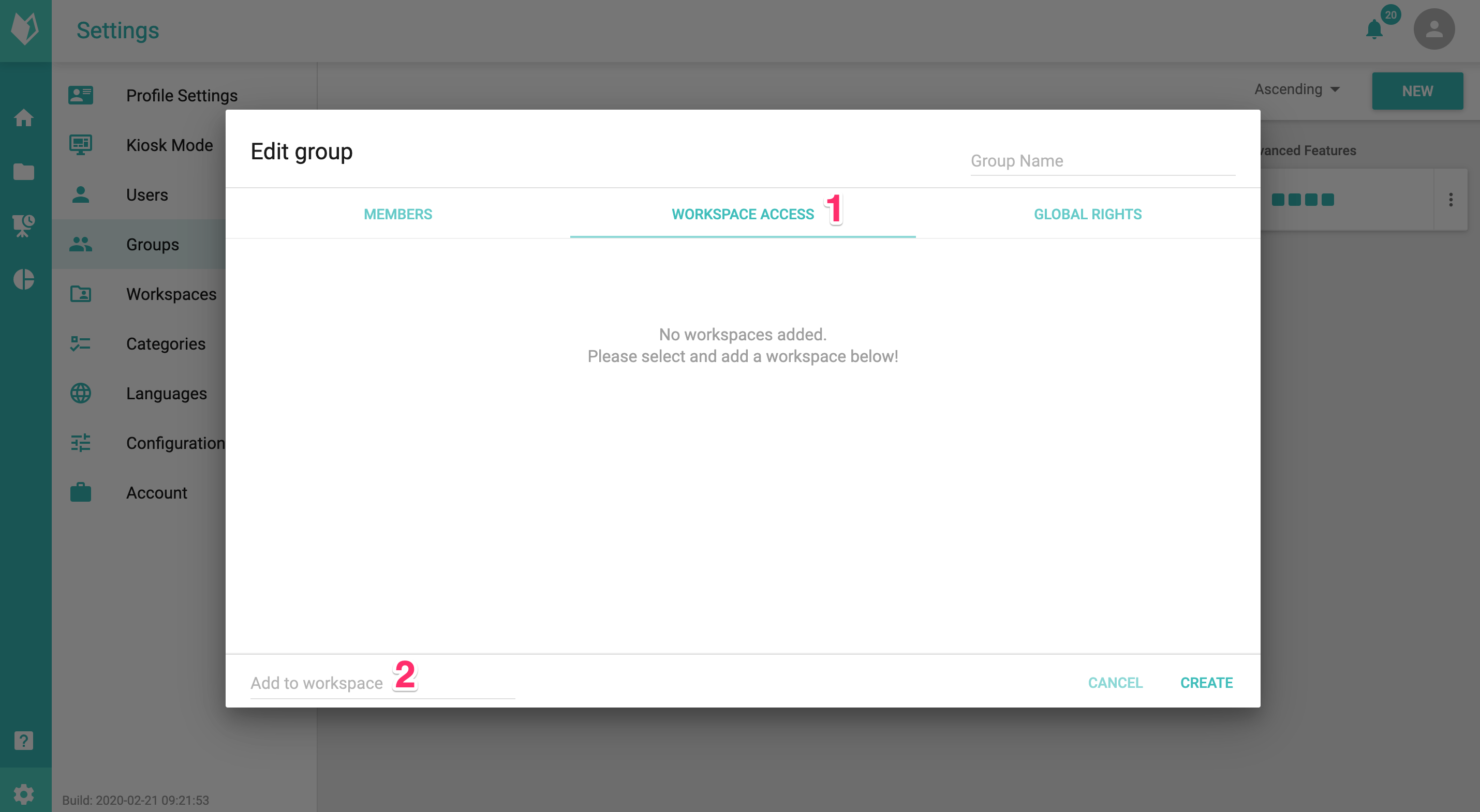 If you have selected a workspace, the role settings for this workspace will open. These roles and permissions allow you to grant users certain accesses and functions in certain workspaces and deny them in others. The following roles are predefined: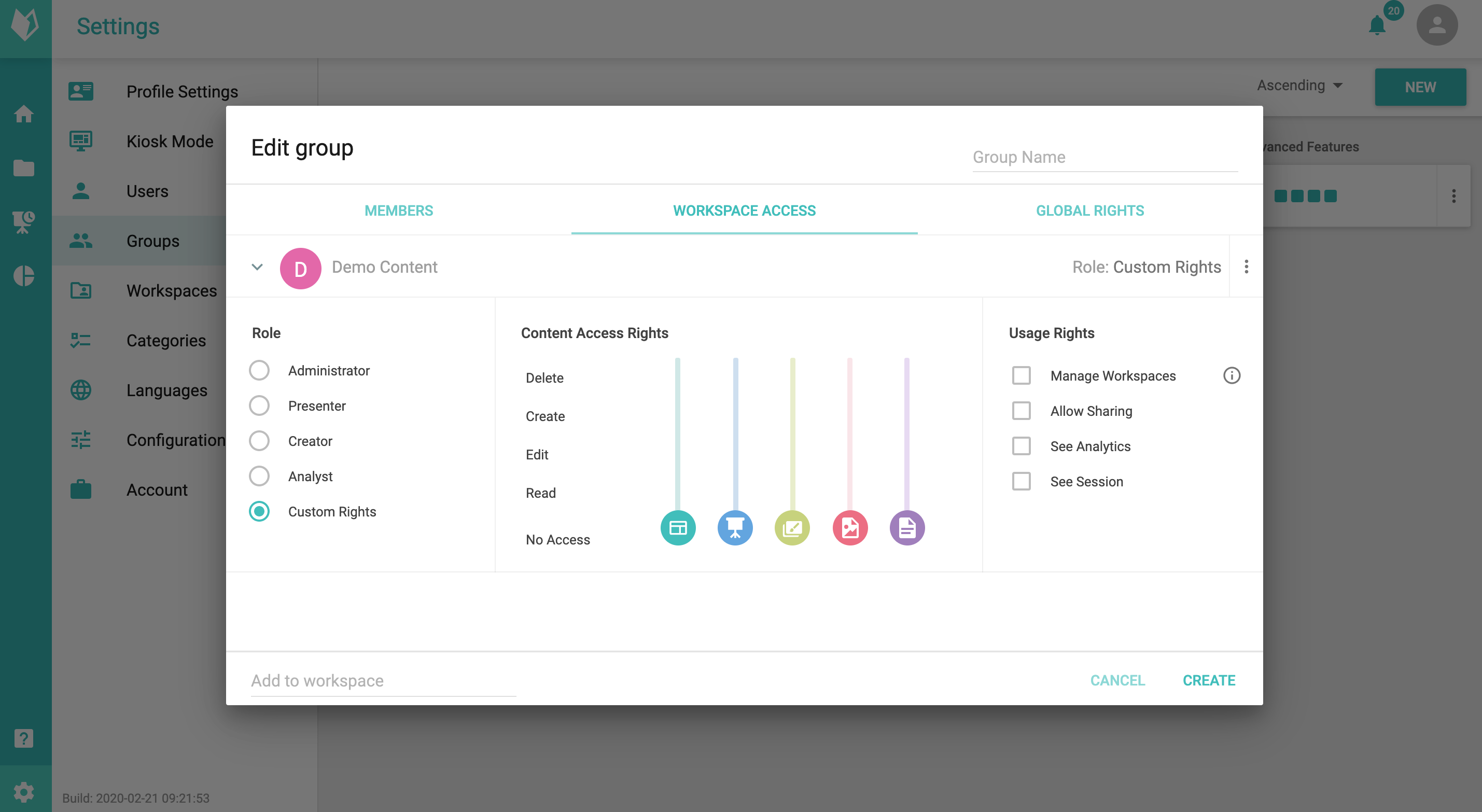 Administrator: The administrator has the highest role and is allowed to view, edit, create and delete all content in the workspace. In addition, he/she may manage the workspaces and their members, share sessions and presentations, view members' sessions and analytics.
Presenter: The presenter can only present content but not edit it. Therefore he may only view slides, media and documents. Template sets and templates are not visible for this role. The sharing and viewing of sessions from the workspace is allowed.
Creator: The creator may create but not delete all content, manage the workspace and share presentations.
Analyst: The analyst may view all content but may not edit or create anything.
Sessions and analytics of the workspace are visible.
If you also need a specific other role, you can also create your own permissions. Select the role "Custom", then you can move the sliders for the rights individually and create your own role.
Global rights
Next, select "Global rights" (1) to control access to general functions or general permissions for users in this group. If a user is in more than one group, the higher level of permissions will apply. These rights control access to the following parts of presono:
Manage settings: (2)


account
Create your own workspaces
configurations
categories
Manage all users, groups & workspaces
languages

Advanced functions (3)


Enable group notifications
View Analytics
View Sessions
Custom layouts
When you have assigned all rights, click on "Create" (4) in the lower right corner. The group has been created.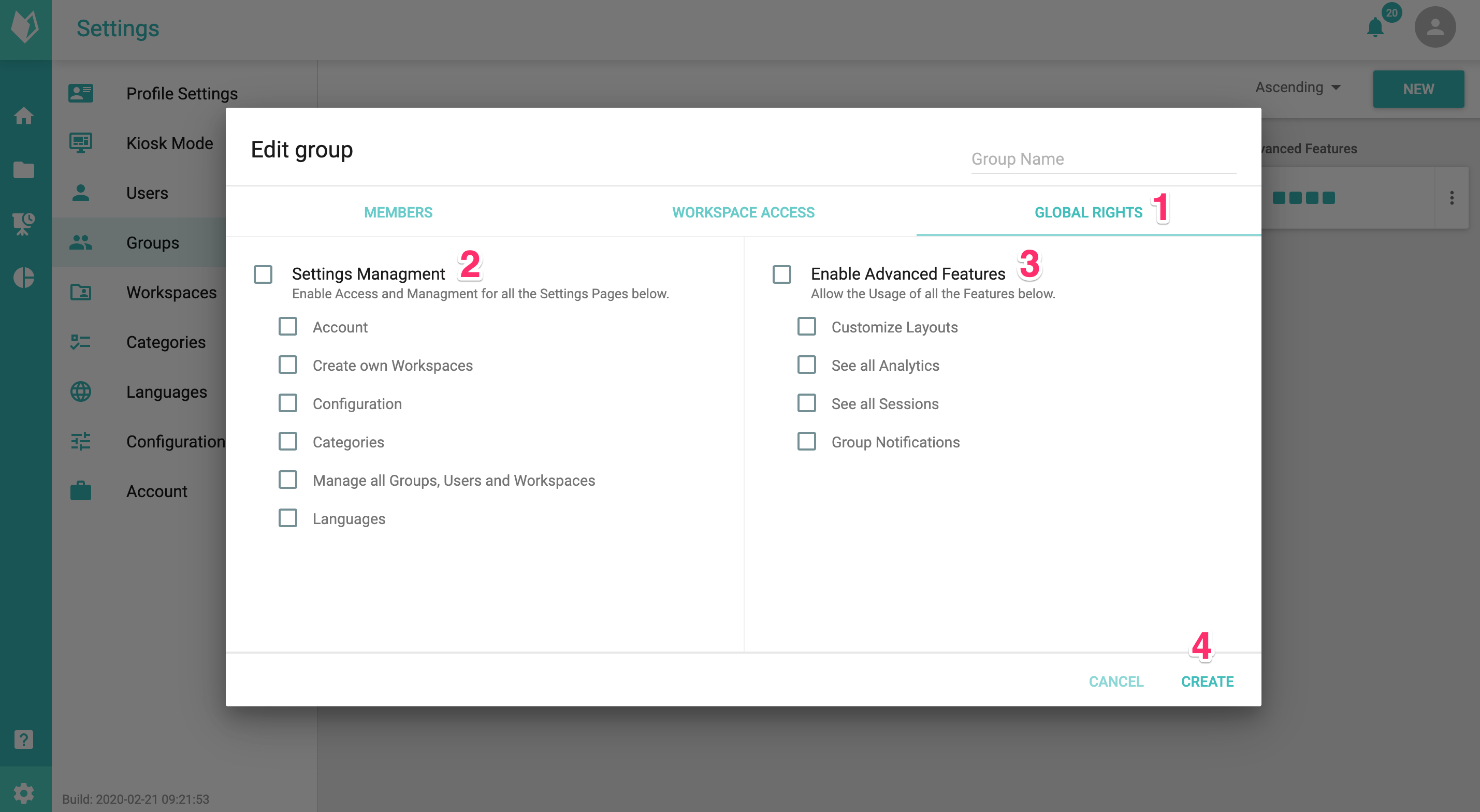 Edit groups
Of course you can edit a group at any time. In the settings under "Groups", click on the group itself. You can also select "Edit group" in the three-point menu of the respective group. Then you can use the options mentioned above again.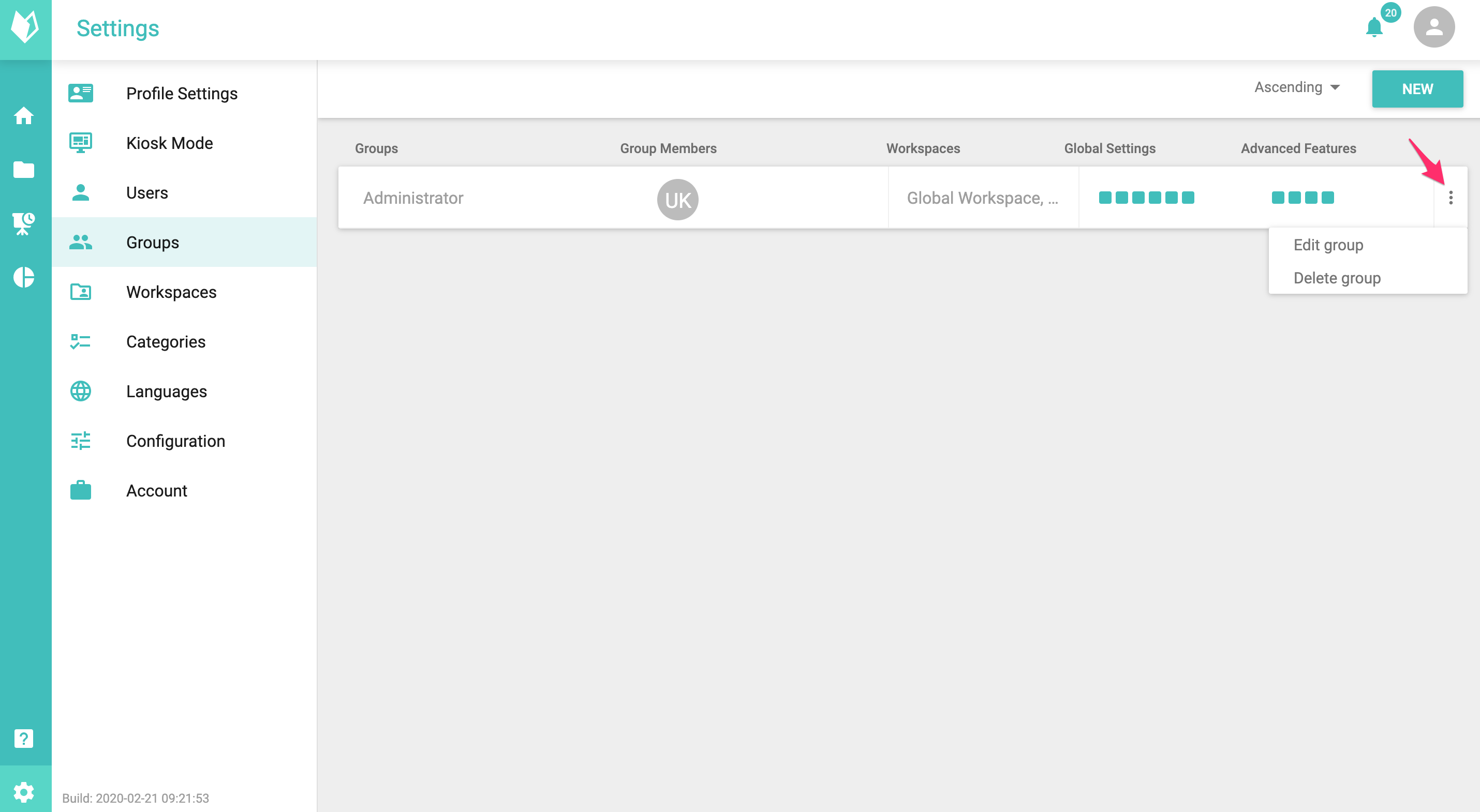 Delete groups
To delete a group, go to the settings and groups. Then you can select "Delete group" in the three-point menu. Don't worry, the users and workspaces will not be deleted. It's just possible that a single user has no group at all after deletion and therefore no rights to any content (if he was only in this one group). You can see this with the users, if no group is listed for a user.
You might also be interested in the following:
Categories, Workspaces & Rights