Headlines:
What is a workspace?
Creating workspaces
Add user or group
Remove user
Delete Workspaces
Create sub workspace
Editing Workspaces
In this article you will learn what workspaces are for and how to create them.
This article contains some features that are not included in all packages.
For more information, visit our price overview.
What is a workspace?
Workspaces are there to better organise the cooperation in presono.
All content that is stored in a workspace can only be viewed, edited or used by users that have the appropriate permissions.
In contrast to categories, which are only responsible for thematic structuring, content can only be stored in one workspace. So you can control who has access to your new content.
For this purpose, members can be assigned to each workspace individually or as a group.
A single user can also be a member of several workspaces and work in them.
Creating workspaces
To create a new workspace you have to click on the tab "Workspaces" (2) in the settings (1). Here you can see all workspaces at a glance.
If you click on "New" (3) in the upper right corner, you can create a new workspace.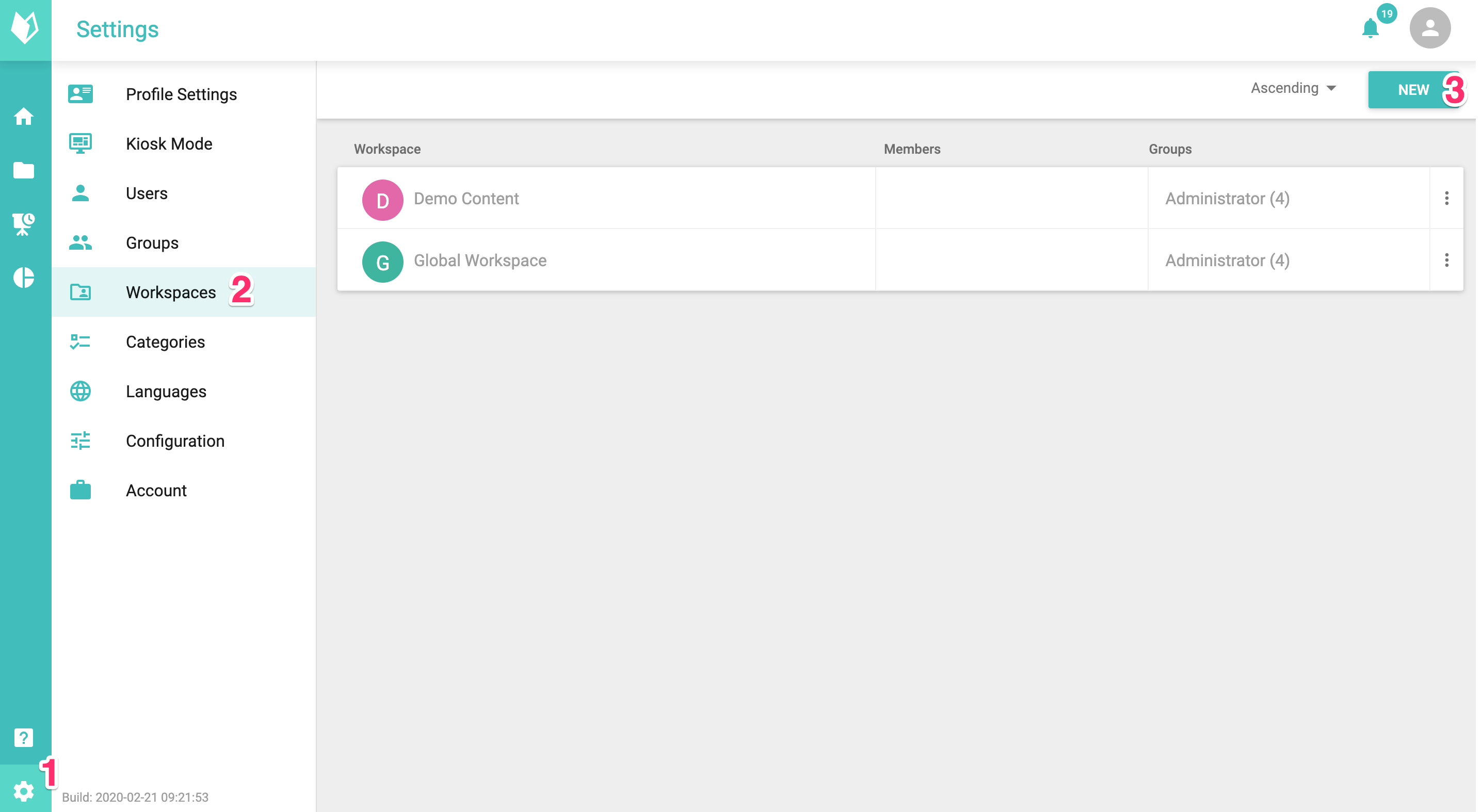 Here you can enter a name (1) for your workspace and set a picture (2) right at the top right.
You will automatically be added to the newly created workspace as administrator, because you just created it by yourself. With a click on your name or the arrow (3) on the left, your role will be unfolded and you can change the rights if necessary.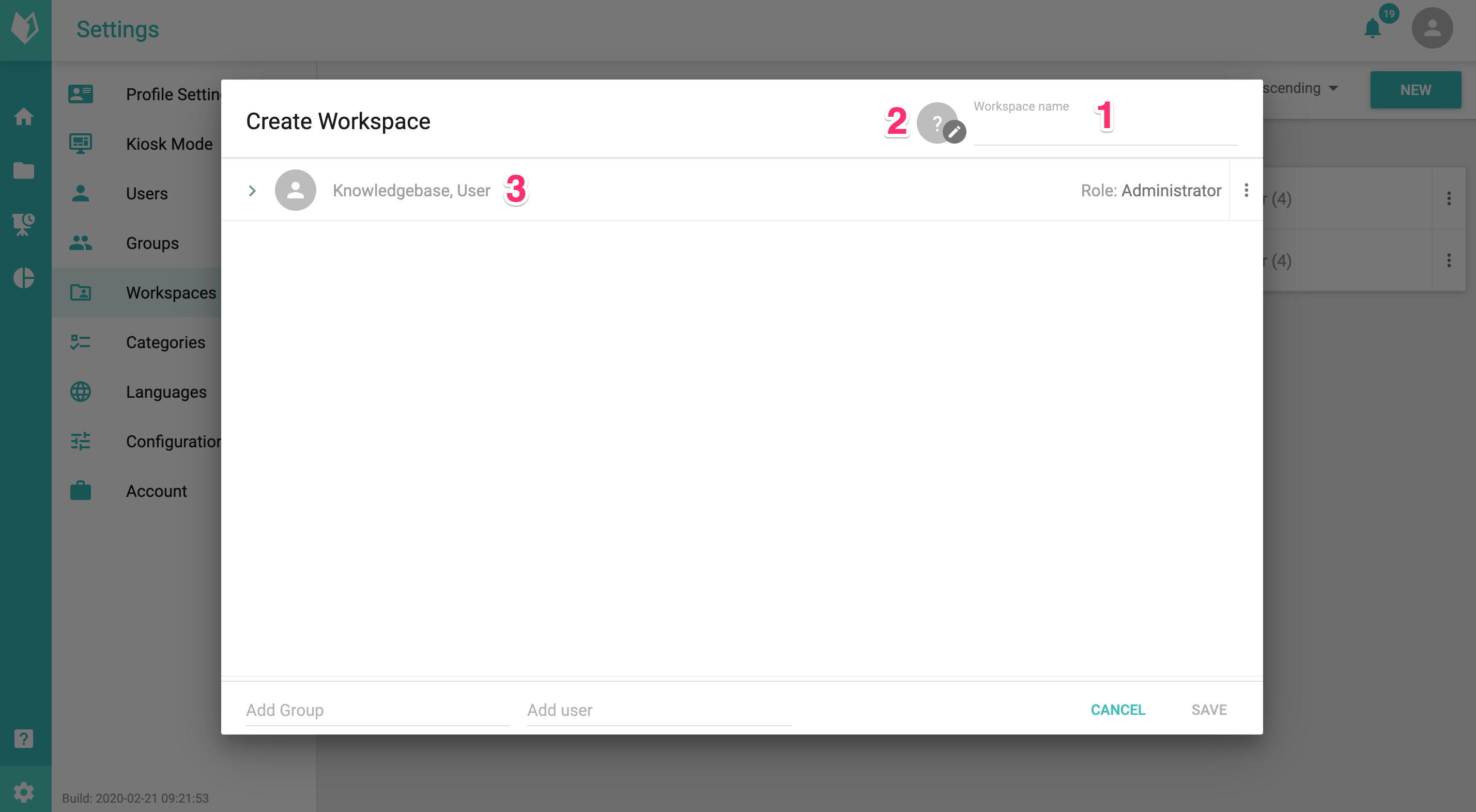 Add user or group
To add a user or a group, simply click on the corresponding areas (1+2) in the lower left corner. Now the corresponding groups or users are displayed and you can choose one of them. Of course you can also give them a name.
Once you have chosen a user or group, it will be shown in the list and the role settings (3) will open automatically. These roles define the individual rights of the users in this workspace.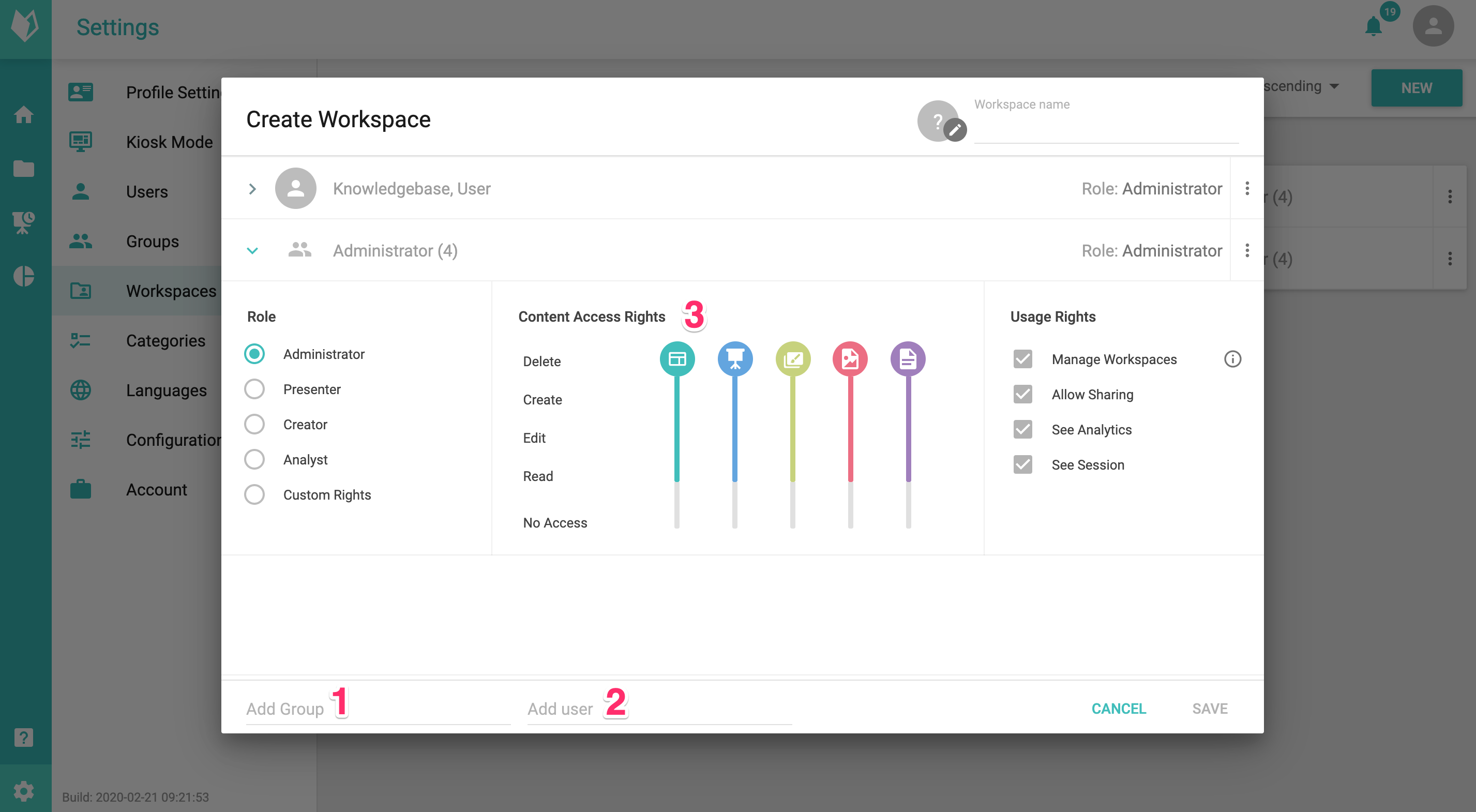 The following roles are predefined:
Administrator: The administrator has the highest role and is allowed to view, edit, create and delete all content in the workspace. In addition, he/she may manage the workspaces and their members, share sessions and presentations, view members' sessions and analytics.
Presenter: The presenter can only present content but cannot edit it. Therefore he may only view slides, media and documents. Template sets and templates are not visible for this role. The sharing and viewing of sessions from the workspace is allowed.
Creator: The creator may create all the content but cannot delete it, manage the workspace and share presentations.
Analyst: The analyst may view all content but may not edit or create anything.
 Sessions and Analytics of the workspace are visible.
You also have the possibility to create or assign individualized roles. Under the item "Custom" you can move the sliders for the rights individually and create your own role.
These roles and permissions allow you to authorize or deny users certain accesses and functions in certain workspaces.
In addition to these rights there are other permissions that control general functions in presono. These are not assigned to workspaces but also to groups.
You can find more information here: Categories, Workspaces & Rights and here: Settings
Remove user
To do this, click on the three-point menu to the right of the user/group and select "Delete user/group from workspace". This will take away all rights of the user/group to the workspace and all content stored in it. Alternatively, you can also click "Change role" and adjust the rights of this user/group as described above.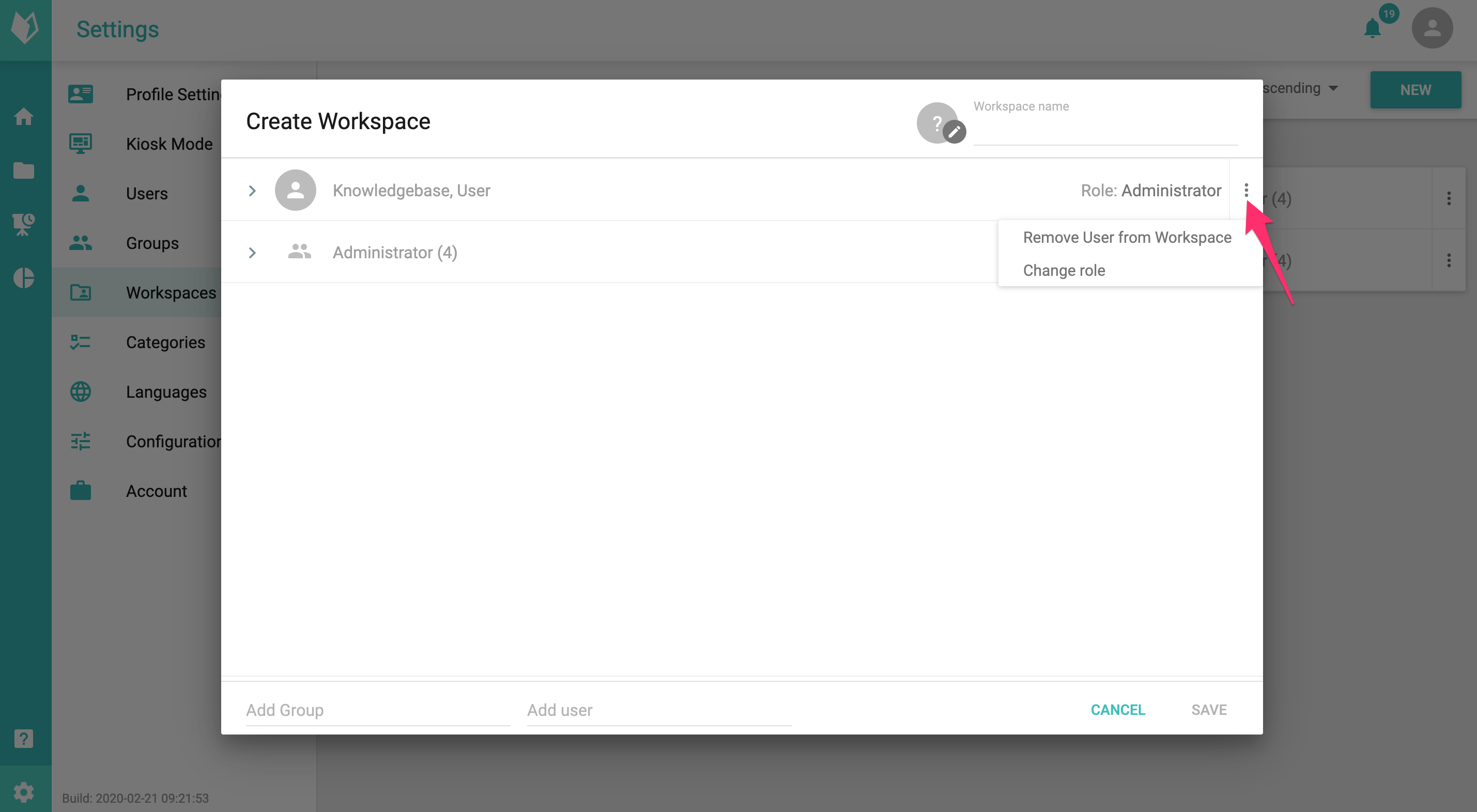 Delete Workspaces
To delete a workspace, click on the three-point menu (1) and then select "Delete workspace" (2).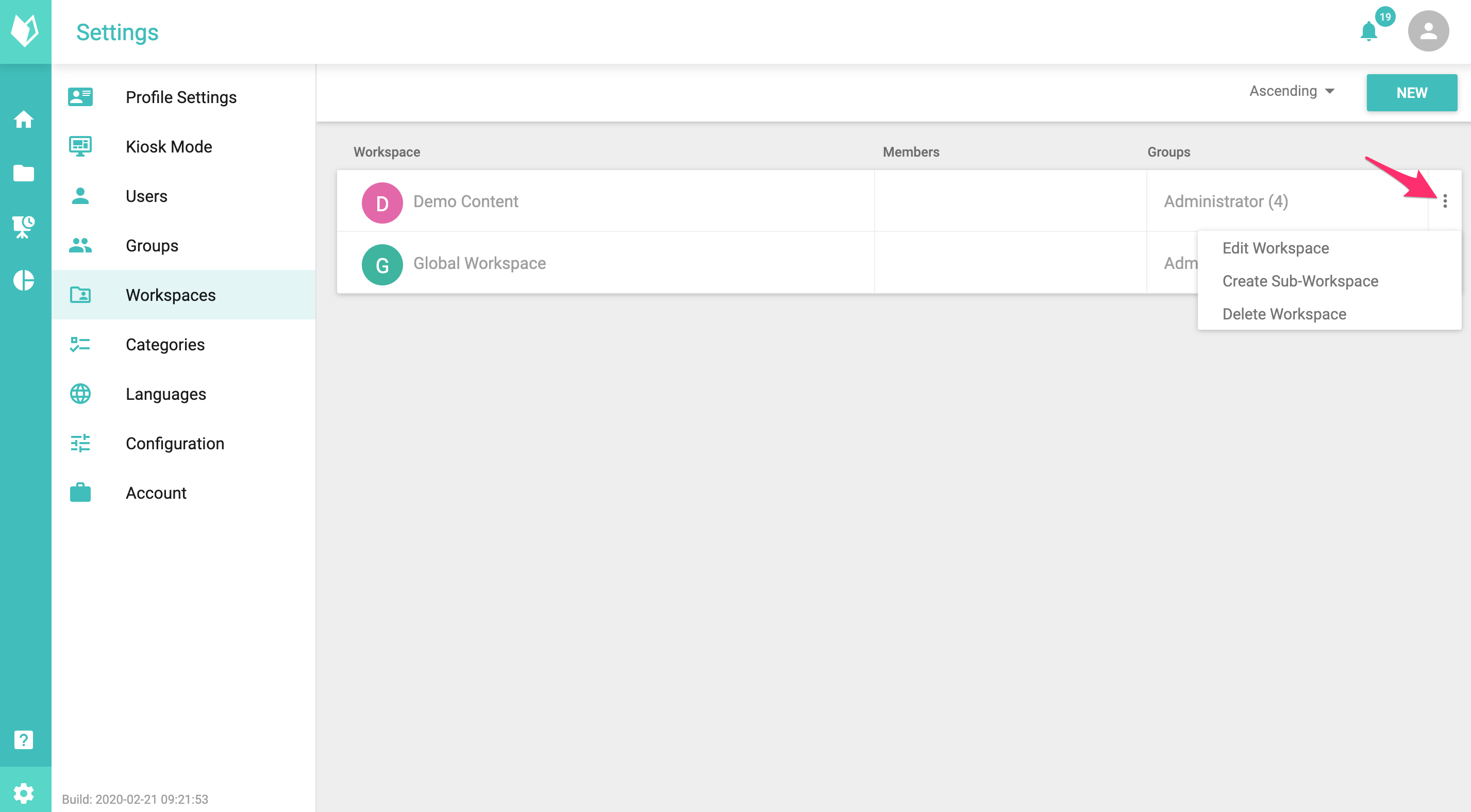 Create sub workspace
You can create another workspace in a workspace. To do so, click on the three-point menu in the overview of the respective area and then select "Create sub workspace".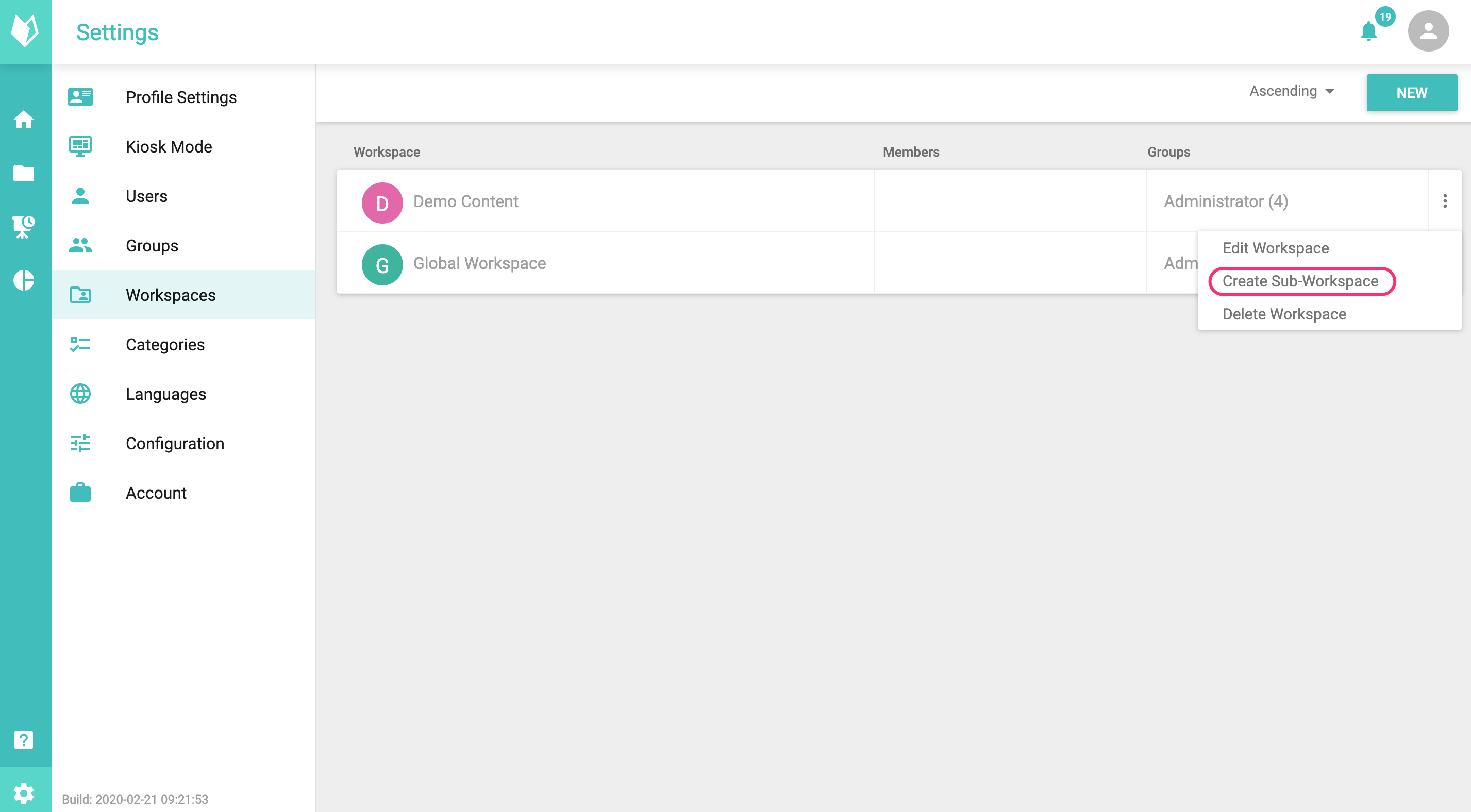 You can manage this sub workspace separately with exactly the same settings as described above. So you can give or deny access to (sub)workspaces to individual users or groups.
 For example, if a user only has access and rights to a sub workspace, he or she will not be able to see the parent workspaces and their contents.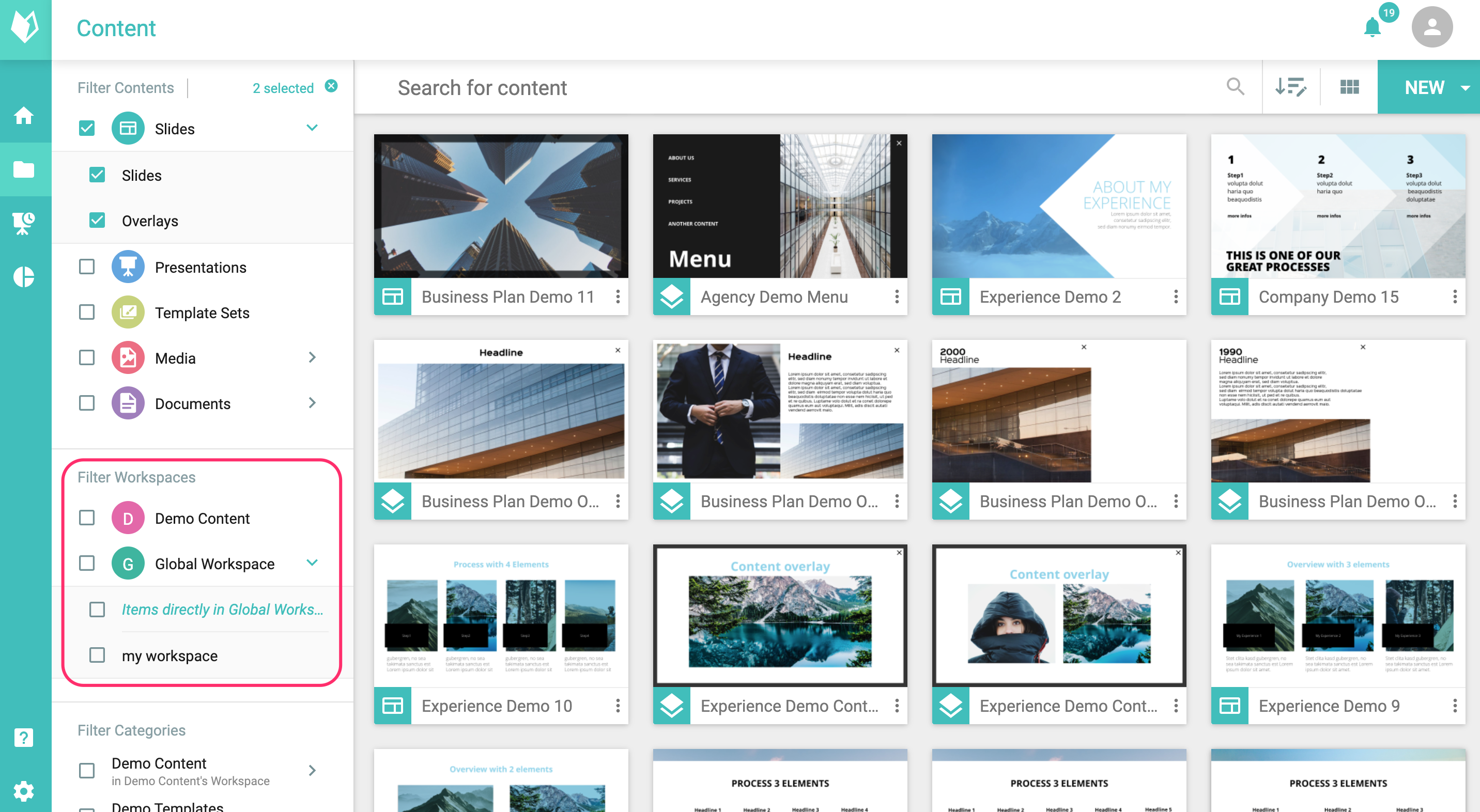 Editing Workspaces
To edit a workspace or sub workspace, you can either click on it or select "Edit workspace" from the three-point menu on the right.
You may also be interested in:
Categories, Workspaces & Rights
What is the content structure?