Headlines:
This article explains how to upload images, videos or PDFs to presono.
Click "New" in the top right corner in the content structure or the plus icon at the dashboard!
Now select "Upload new item".
Now you can drag one or more pictures/videos/PDFs into the area above. You can also click on the area and search for the images directly on your computer(1)
Then select a workspace (2) and category(s)(3) so that you can find the content again later at any time.
presono's tip:

Images can be uploaded as .png; .jpeg, .tiff or .gif (max. 10MB) and videos as .mp4 (max. 600 MB) and PDF's as .pdf (max. 100MB).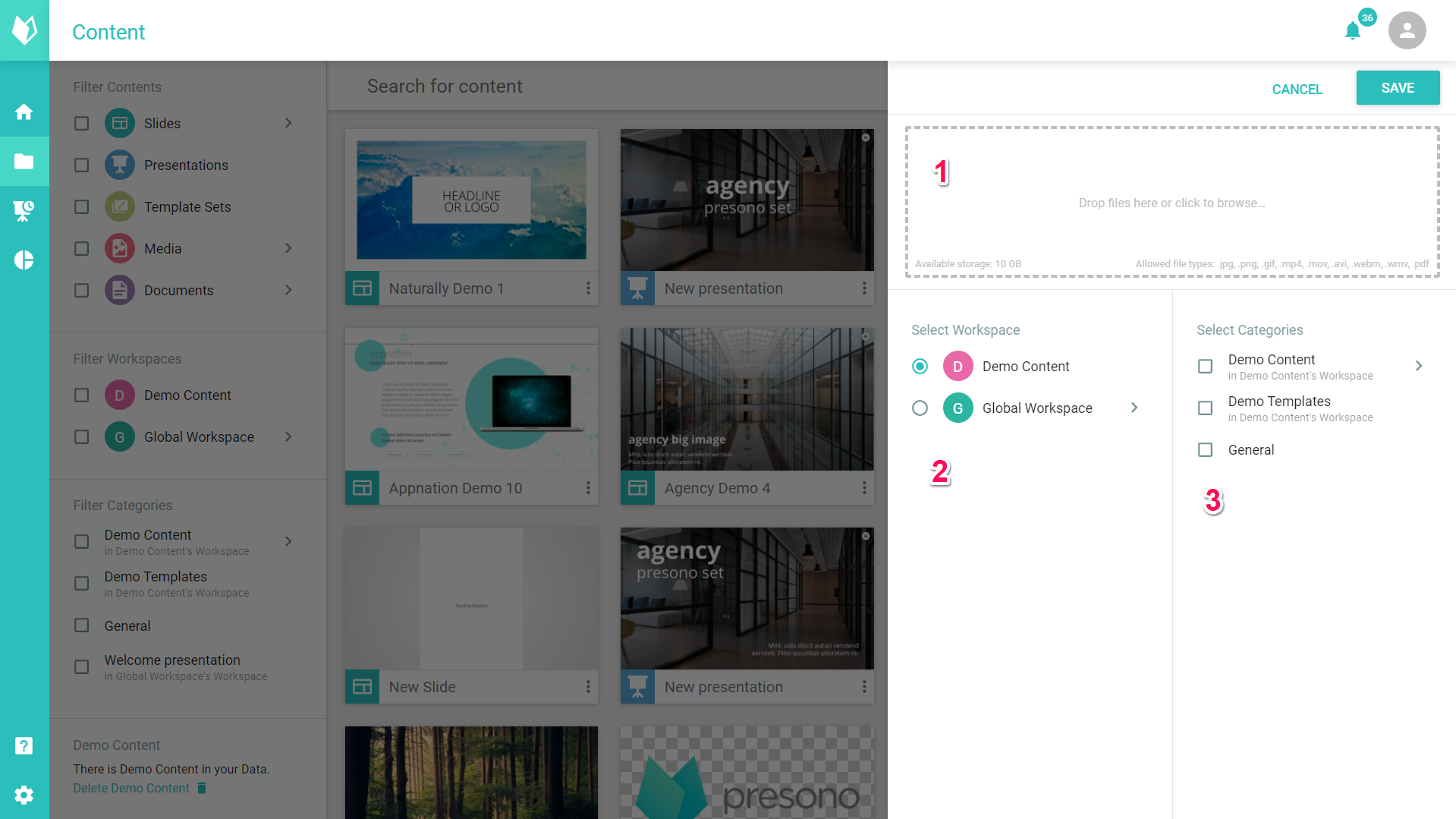 Before saving, you can rename the image (1) or remove it (2). A small preview image (3) is also displayed . If the image is very large, the preview will not be displayed automatically, but you can click on the preview image (4) and it will be displayed. Also, if you upload a lot of items at once, you can minimize this area (5) to better choose the categories and workspaces.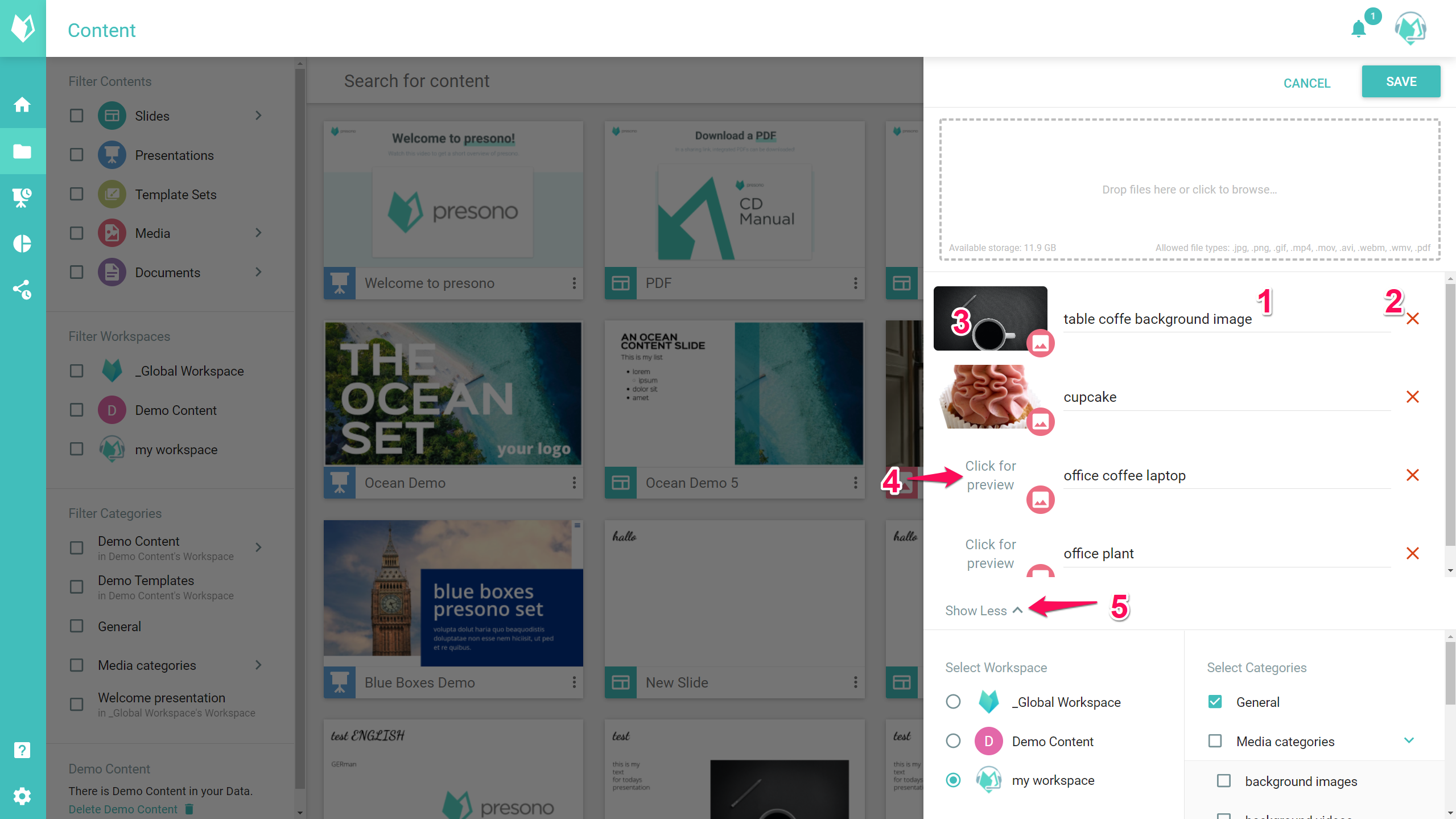 Click "save" to upload the files.
presono's tip:

If you haven't uploaded a picture yet, you can do it while creating a slide!
you can find more information here: Create slides
Media description
After the upload you are back in the content structure. If you click on the image again, you open it. Here you can rename or change the location of the image (change categories and workspaces). At the bottom you will also find a section for media descriptions. So you can add text to describe your media or provide other information. With the arrow on the right you can collapse the area.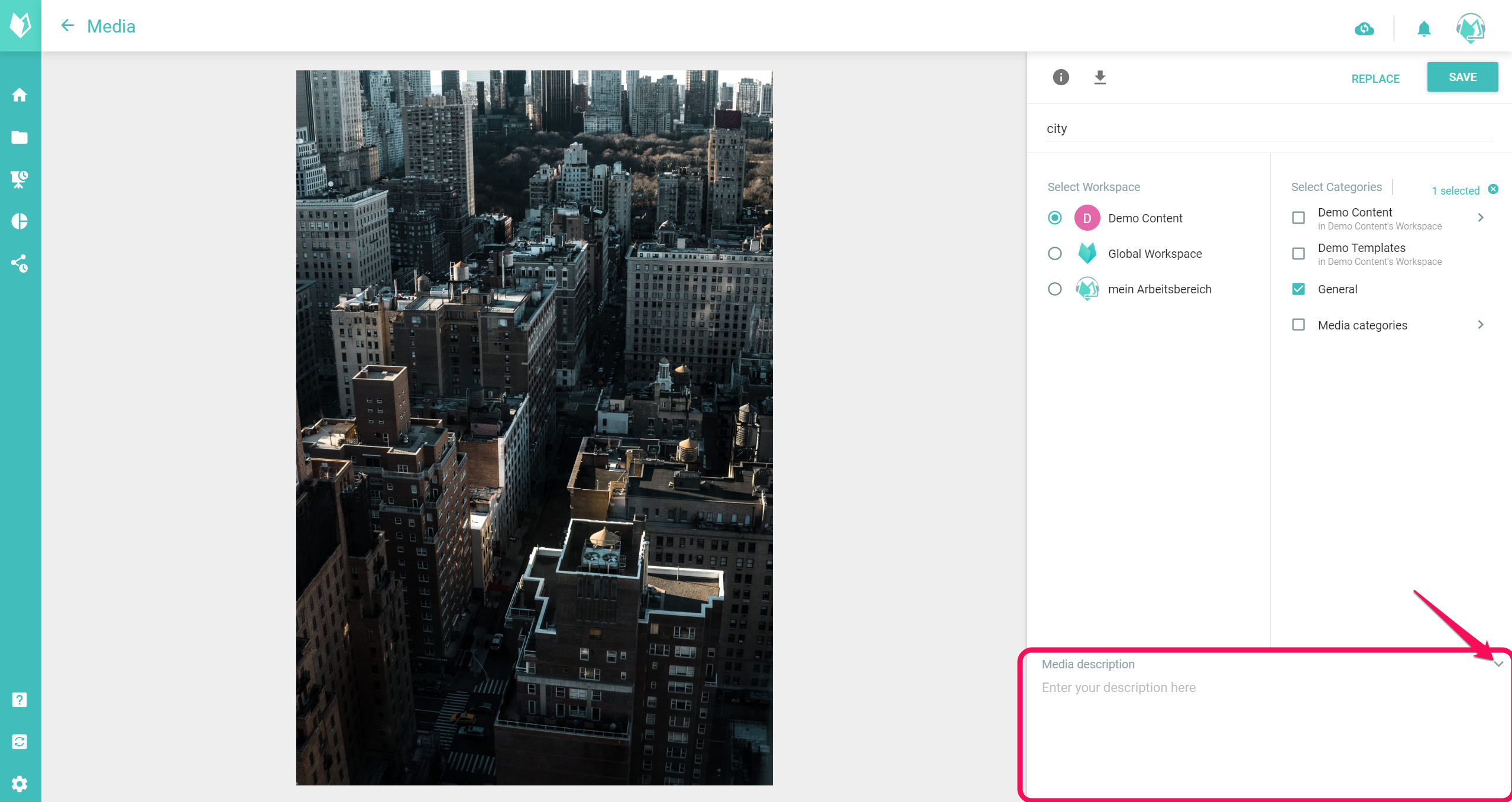 You might also be interested in:
What is the content structure?
Why is my picture/video/PDF not uploaded?
Maybe the picture/video is too big. The maximum upload size for pictures is 20MB, 600MB for videos and 100MB for PDF's.
Maybe the picture/video has an unsupported format. Files can be uploaded as .png, .jpeg, .gif, .mp4, .mov, .avi, .webm, .wmv and PDF. For videos we use HD (720p) or FullHD (1080p), but compressed videos are preferable because they load faster.
Why is the color of my image not correct after uploading?
Images used in presono should be uploaded in RGB color.