Headlines:
Setup and first steps
Present
Present online
Present offline

presono also offers an app for mobile devices with which you can present online and offline.
Apps are available for smartphones and tablets, which were developed primarily for presentations. An account in presono is required for use; login is via password and e-mail address. Here, too, the domain can be changed when logging in.
Minimum requirements:
Android Version 10.0 or higher
iPhone/iPad: iOS 13.0 or higher
The app can be downloaded from the corresponding app stores and from our website.
Setup and first steps
You can download the mobile app from the App Store or the Google Play Store. When you open the app for the first time, you have to log in with your existing presono account. Then the dashboard will appear where you can filter by content type(1) and/or search for content by text input(2). You will also see your favorites(3), presentations available offline(4) and what was last uploaded or edited(5).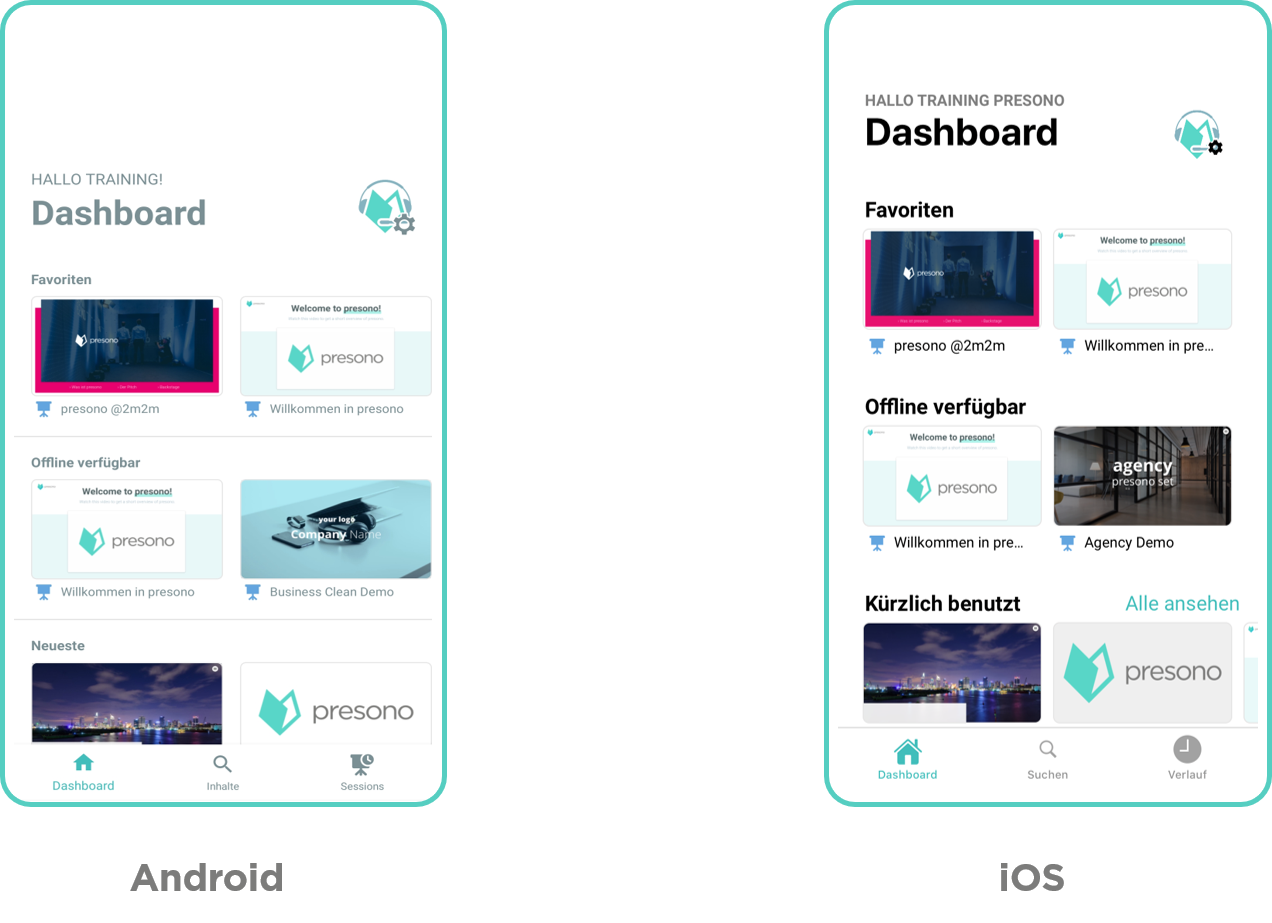 If you filter / search for content you will be redirected to the content structure where the filtered content (based on your input) is displayed. In the content structure you can also filter(1) or sort(2) the content using the two grey buttons.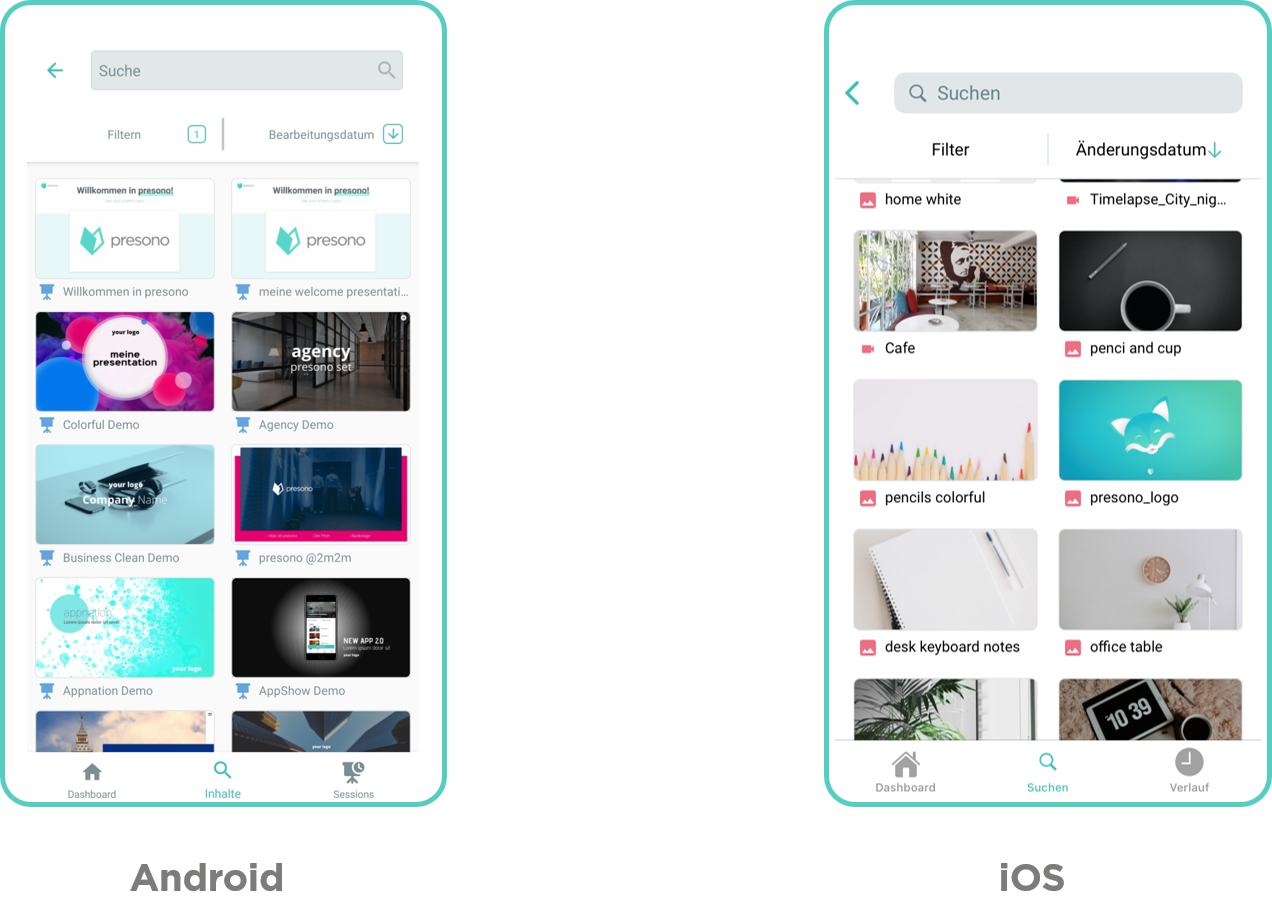 When you click a content, the detail view appears. You can enlarge an image, video or slide by clicking on the expand icon(1) in this view. You can also zoom in on images in this view.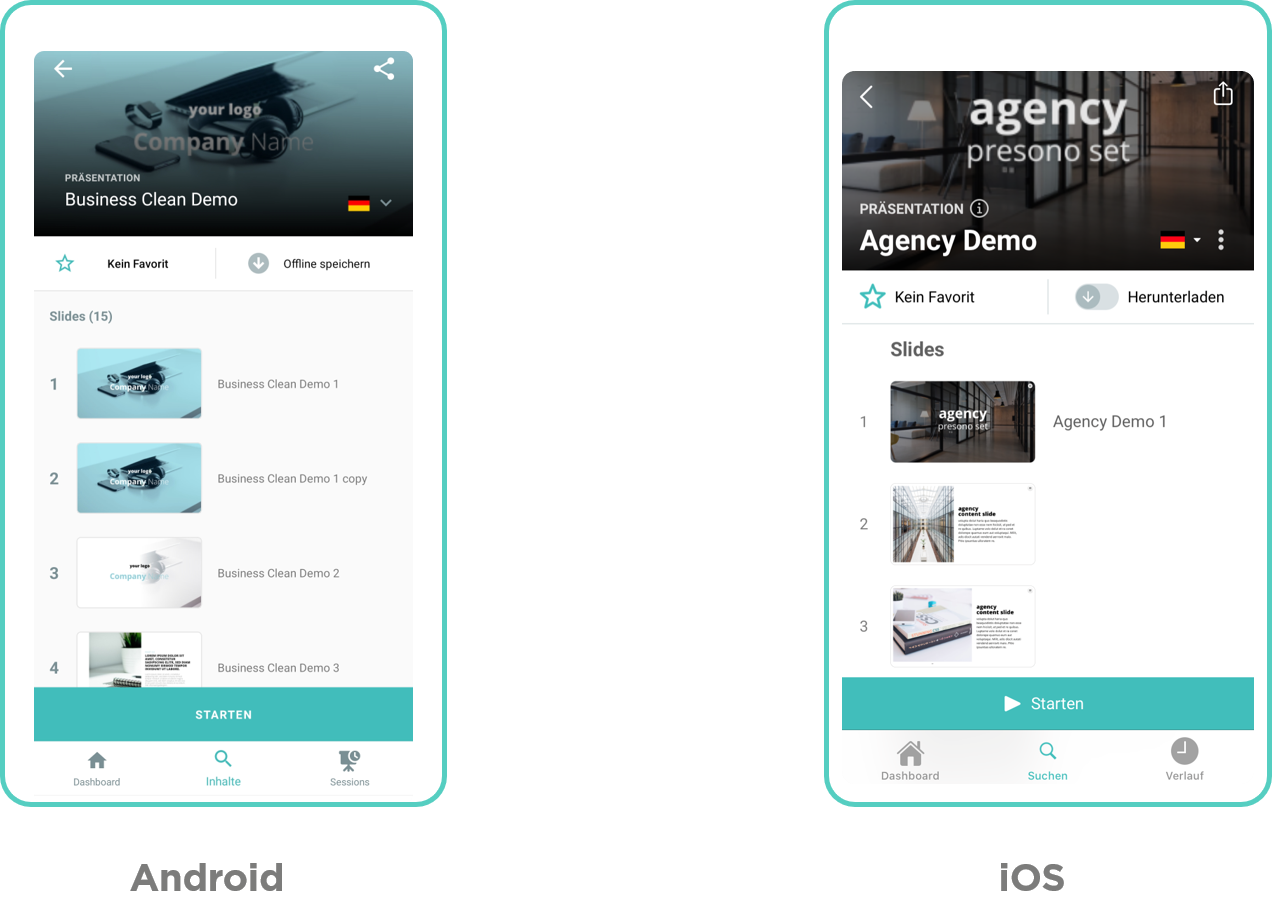 Present
In the app you can present online and offline. This enables you to present your presono presentation to your audience without any difficulties even if the internet is bad or non-existent.
Tip: If you want to show some details on your slide, you can do so by using the zoom gesture!
Present online
To present online, first open a presentation. You can do this either directly from the dashboard or in the content overview by selecting "all" or the content type "presentations". Now klick on "present". To leave the presentation, perform a "zoom gesture" with your fingers. A dialog appears where you can click "finish presentation".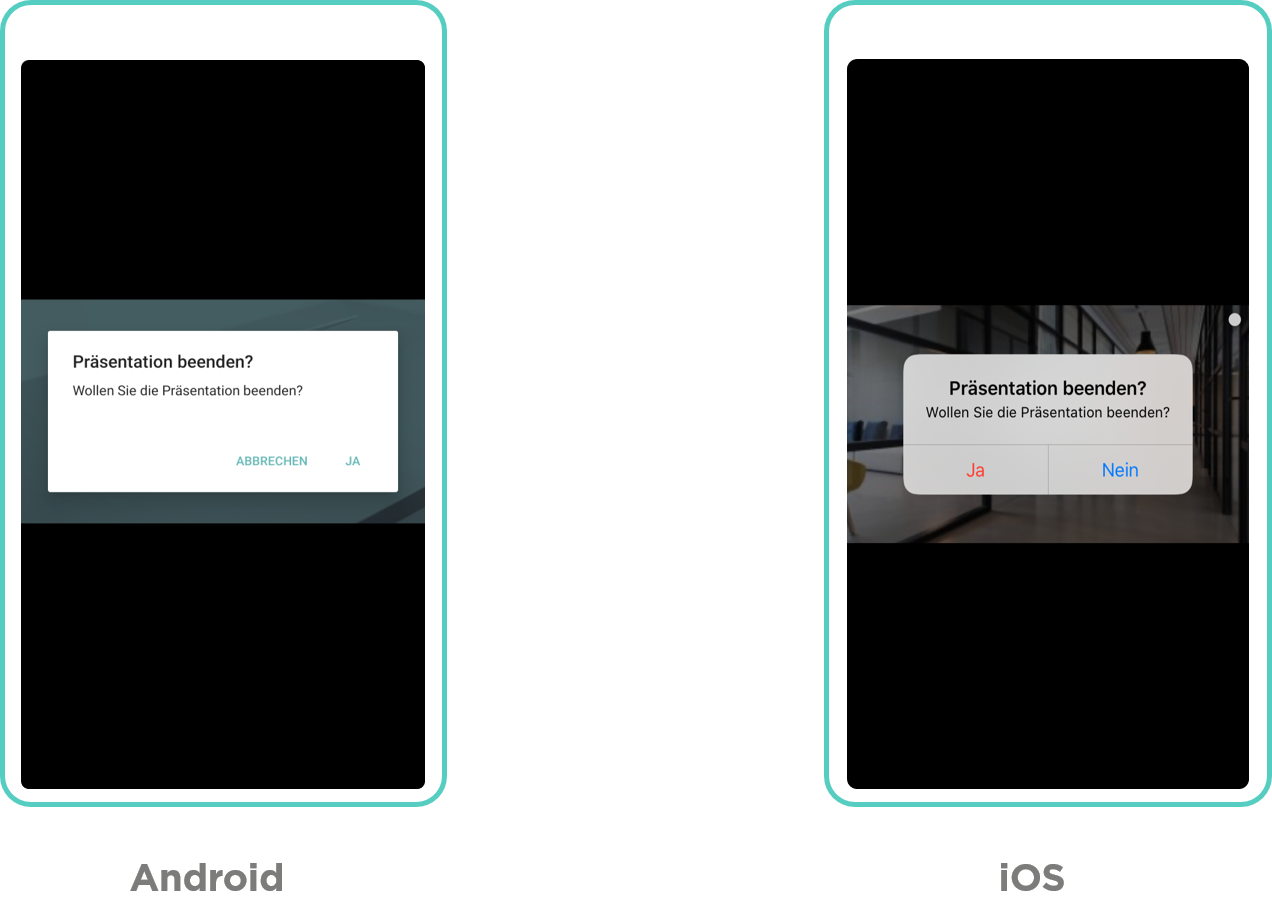 Present offline
Presenting a presentation offline differs from presenting it online only by the fact, that it has to be downloaded first. To do this, open the three-dot menu in the detailed view of the presentation and then select "make available offline". Now you will see a progress circle next to the title of the presentation. While the presentation is being made available offline, you can use the app without restrictions and without cancelling the download (unless you close the app completely).
Important: You cannot present a presentation while it is being downloaded.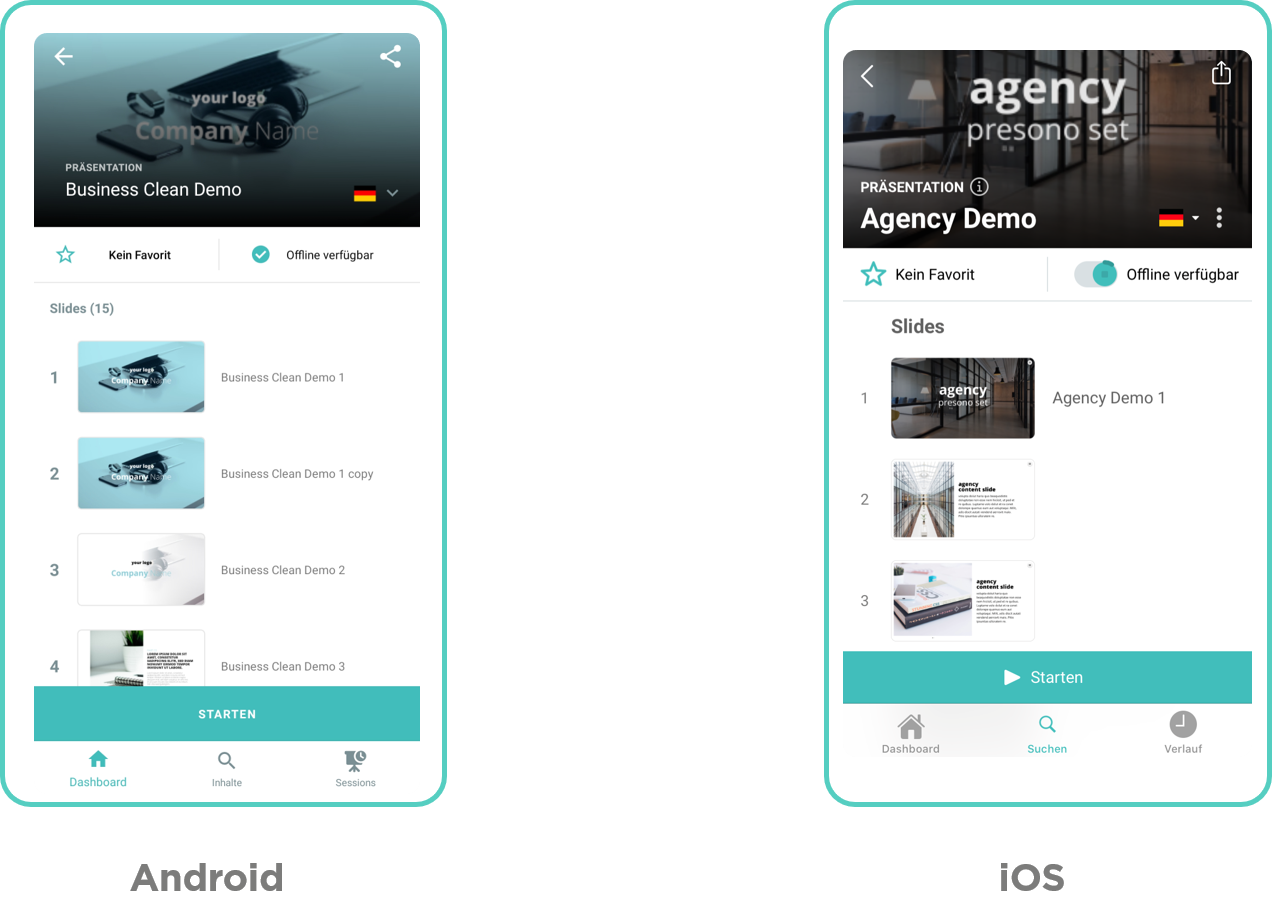 You might also be interested in: