Headlines:
Edit sessions
Share sessions
Share your session as PDF
Share session via link
Download PDFs in shared presentations
Share presentations
In this article, you will find out how to "share" your session with your colleagues, friends and clients!
This article contains some features that are not included in all packages. For more information, visit our pricing page.
As soon as you start a presentation all activities are recorded by the system. You can find out more about how to present flexibly here: Flexible presentation.
You will automatically be taken to the session after finishing your presentation. Your sessions can be recalled and edited at any time afterwards and sent to colleagues, customers, etc. without any further post-processing steps being necessary.
You can find a list of all your held sessions on the left side in the section "sessions". You can find out more here: What is a session?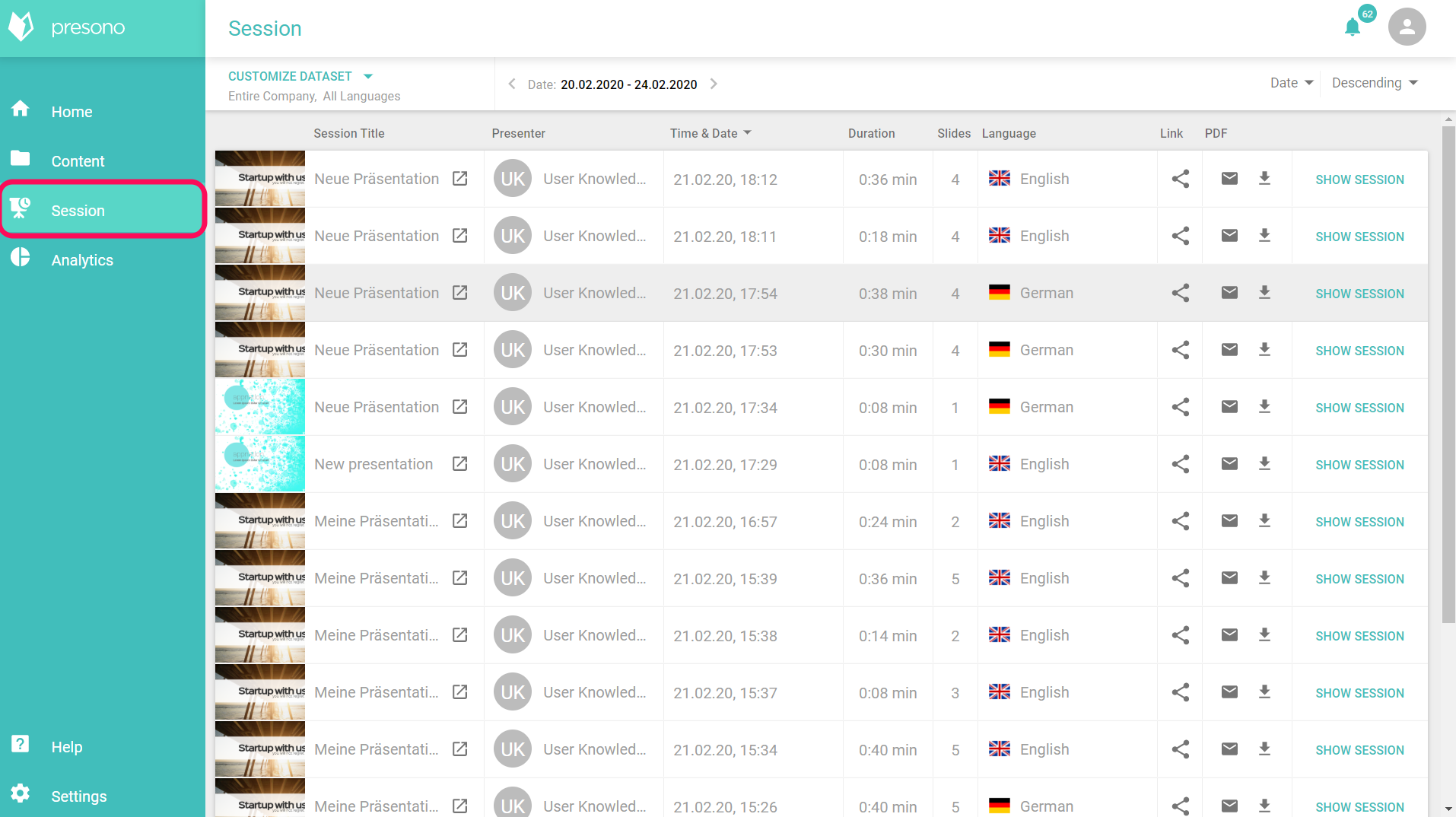 Edit sessions
Of course you can adjust your session a bit before sending. For example, you can delete or add slides. Click on the plus symbol or the minus symbol. You can find out more here: What is a session?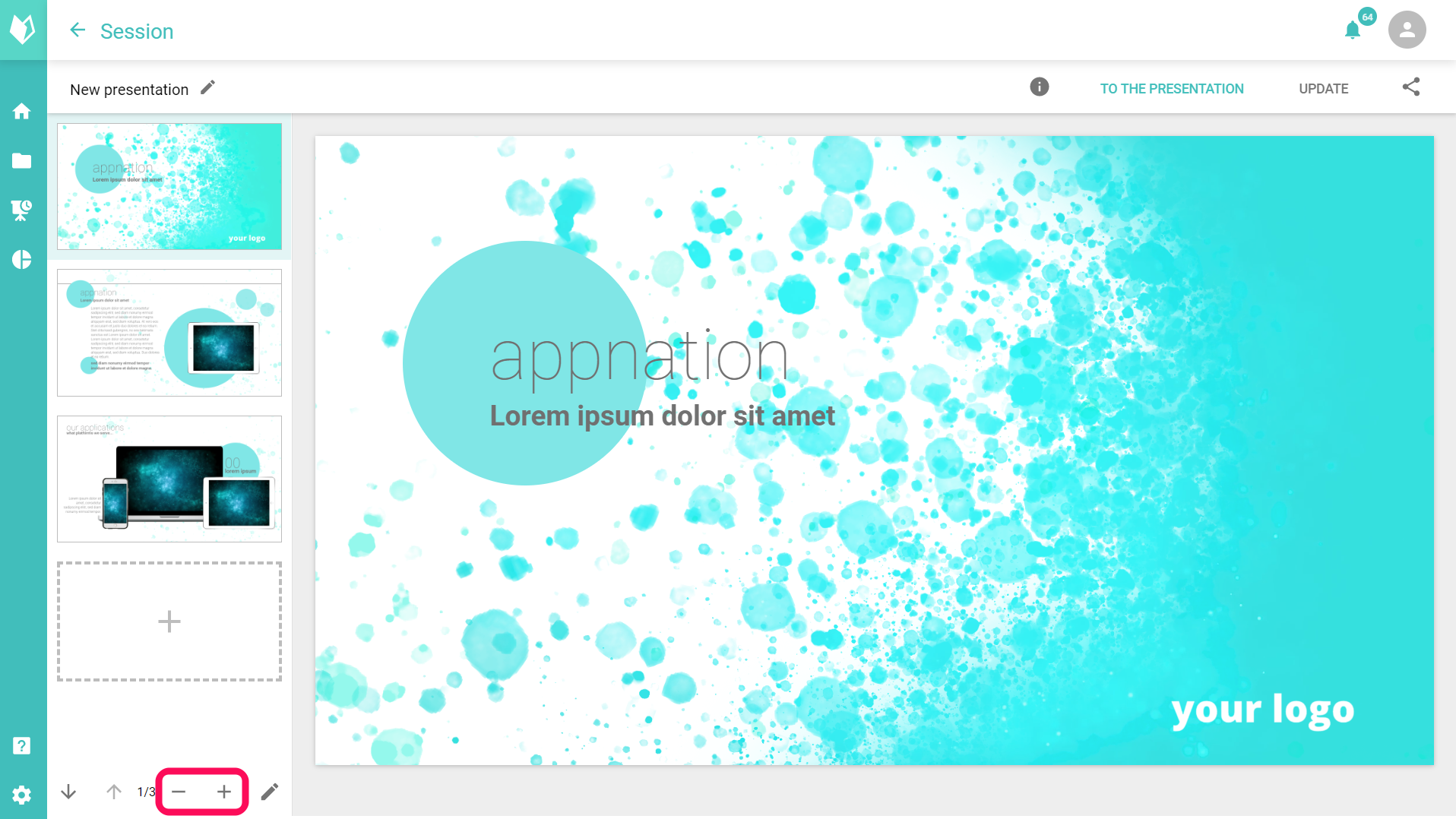 Share sessions
Your session can be shared directly at overview or after opening it. The recipients do not need an presono account. So you can share your presentation or session with colleagues, friends or clients.
In the Sessions overview you have the following options:
Share the session as an interactive link
Sending the session via mail as a PDF file
Download the session as PDF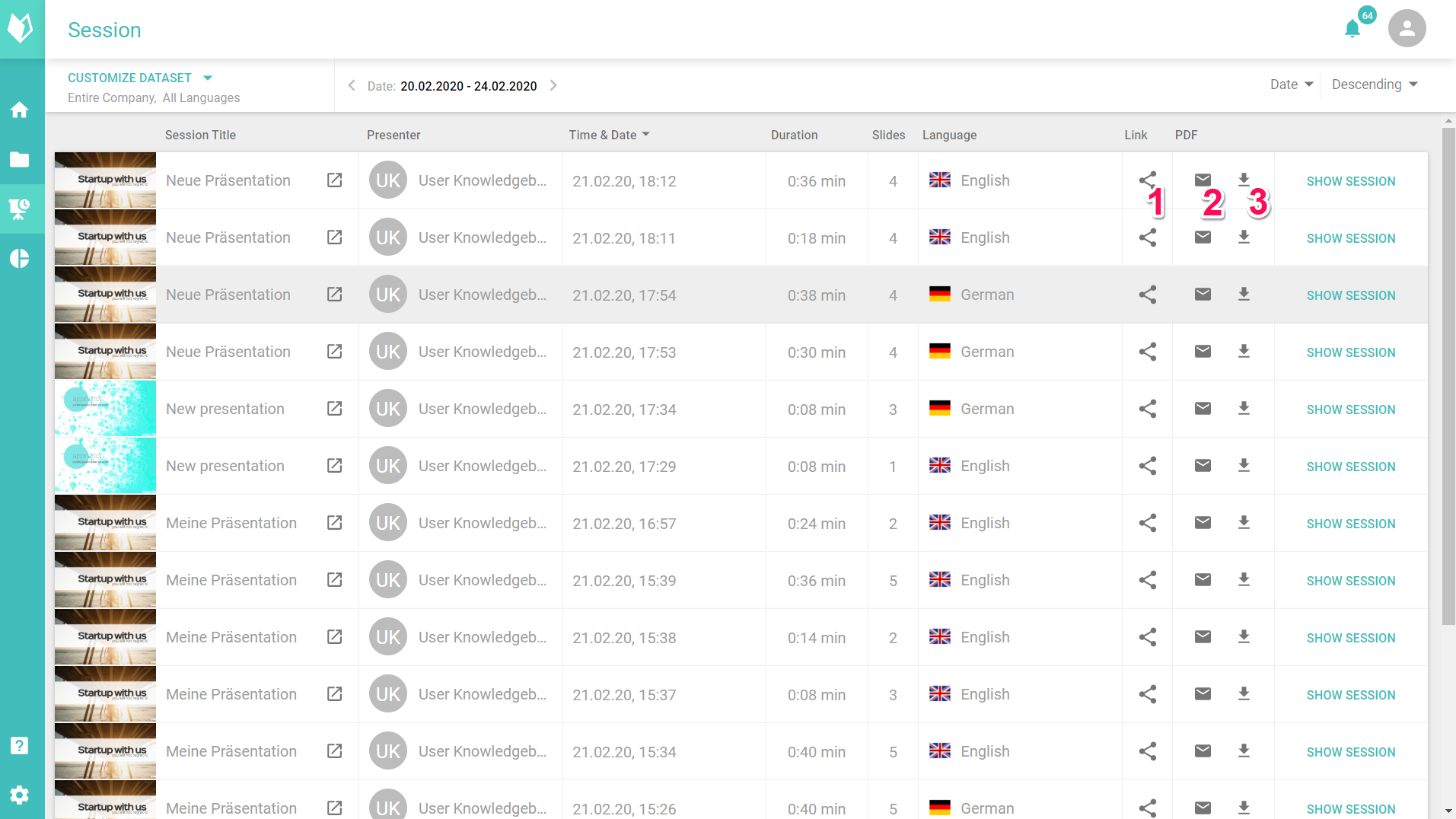 After opening a session you have the following options:
Download PDF
Open PDF
Send PDF via e-mail
Share session (interactive link)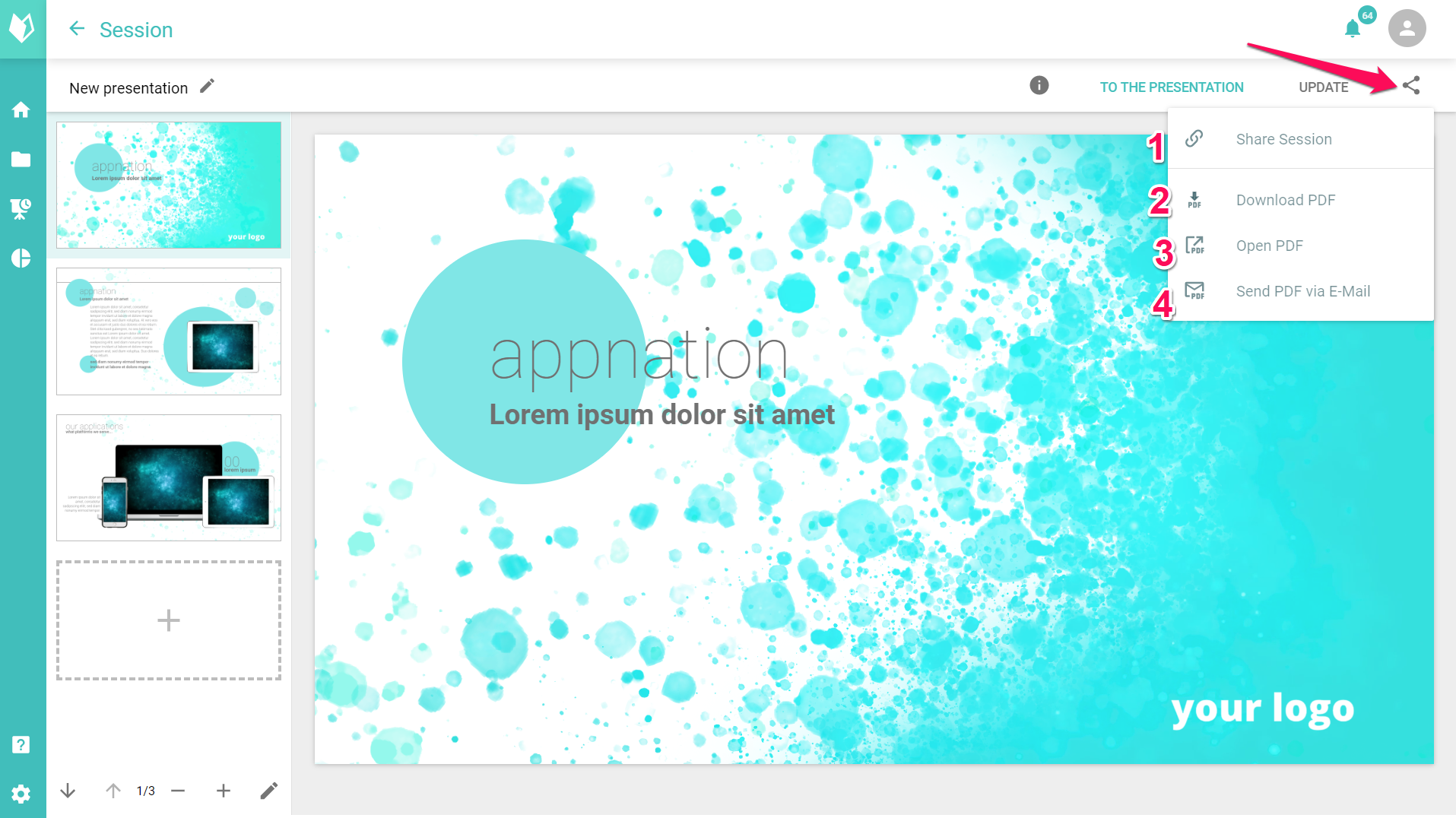 So you can send your session either as a PDF or via an interactive link. The two possibilities are explained below:
Share your session as PDF
A possibility is to share your presentation as a PDF, each slide is a separate page in the document. However, animations, clickable elements, videos and 3D objects can no longer be used. You can download the PDF directly, open it in your browser or email system. However, depending on the length of the presentation, you still have the problem of sending large amounts of data when sending the PDF. For larger presentations it is therefore advisable to share an interactive link (the PDF can also be downloaded here at any time).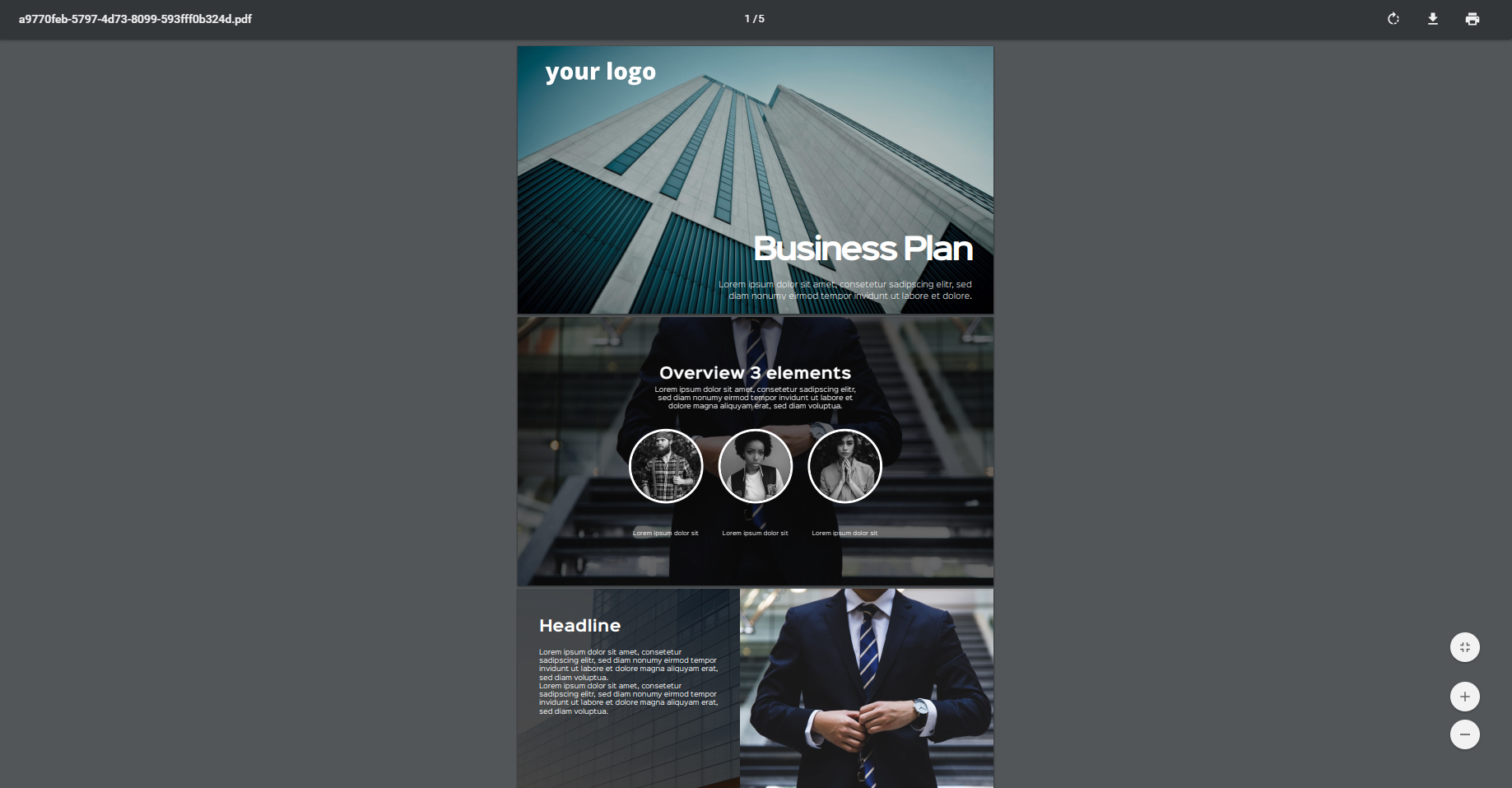 Share session via link

If you want to include all interactive, animated or multimedia elements, click on "share presentation". An individually generated link will appear, which you can simply copy into the clipboard and then share with your colleagues via any channel (mail, chat, etc.).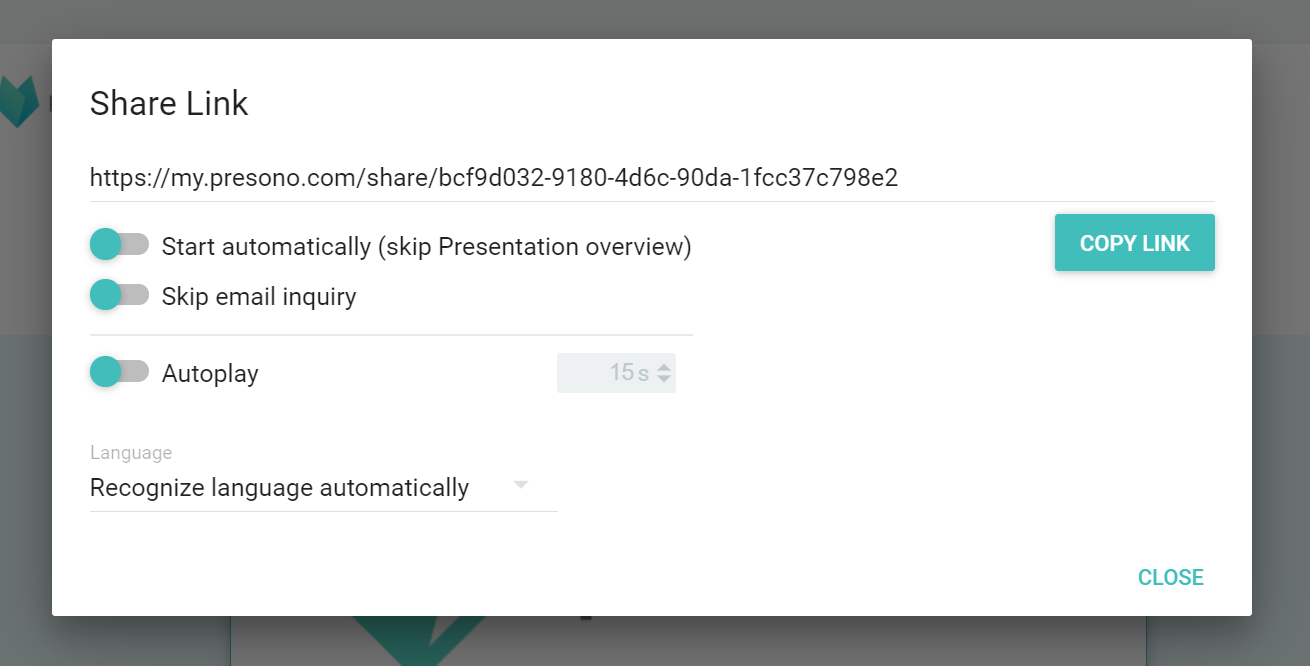 When sending a link the following settings can be added:
Start automatically: If this option is selected, the presentation is automatically started in full screen mode as soon as the recipient clicks on the link. The slide overview is thus skipped.
Skip email query: With this option the receiver remains anonymous. The query for the recipient's email address is skipped and therefore does not need to be filled in or skipped.
Play automatically: The presentation will be started automatically in full screen mode and after the specified time the presentation will automatically switch to the next slide.
Choose language: You can also specify a language when you share. If you don't specify one, for shared presentations the user can choose and for shared sessions the language you used to present will be used.
If the recipient then clicks on the link, the shared presentation opens in his browser. The best way to do this is to use Google Chrome. If you share your presentation via this link, the recipient does not need to have an account with presono and can still experience the presentation with all links, animations, media and documents!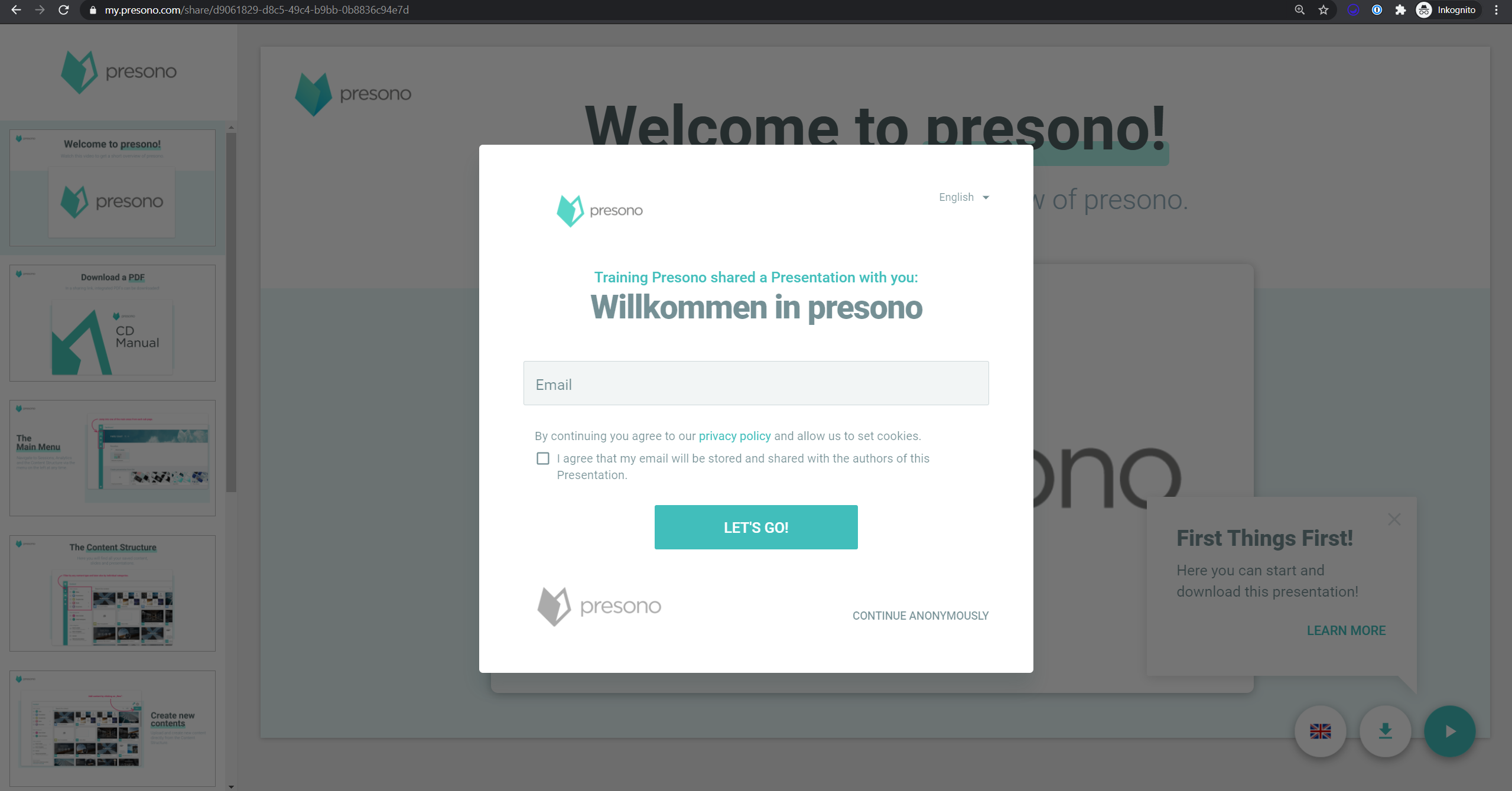 First a query for the mail address of your receiver appears. The recipient can see again who shared the presentation with him. If he enters his email address, you can track and evaluate what the recipients have viewed. You can find more information here: Manage and analyze shared content. You can skip this input by clicking the button "continue anonymously".
You can also download the PDF of the presentation by clicking on the download icon.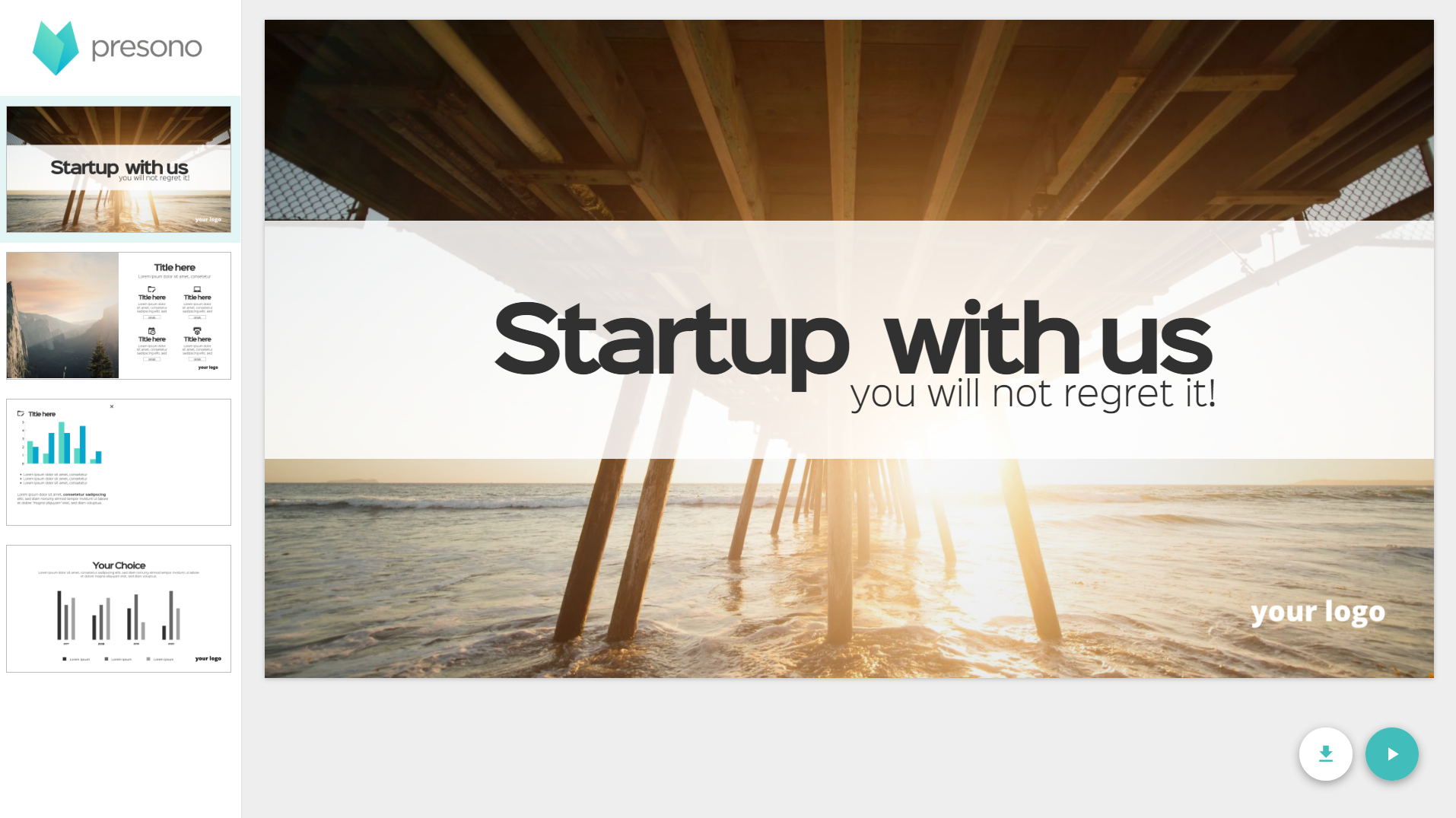 Download PDFs in shared presentations
If you have inserted PDFs in your slides, this PDF can then be downloaded in the shared link! The recipient of the link can then click on the automatically appearing button on the slide to download the file! You can find more about different content in presentations here: Various contents in slides

Share presentations
Presentations can of course also be shared in the same way (as PDF or link). The difference to a shared session is that only those links and contents are sent in the session that were actually shown. Also for the language, only the one in which the presentation was held is available. You can find out more here: Share presentation
You might also be interested in:
Share presentations/sessions as a link