Headlines:
Share your presentation
Duplicate presentations
Translating Presentations
Favor presentations
Delete Presentations


In this article you will learn what else you can do with presentations!
Share your presentation
Once you've created your presentation, you can share it with your audience or colleagues. Go to the presentation and click on the share icon.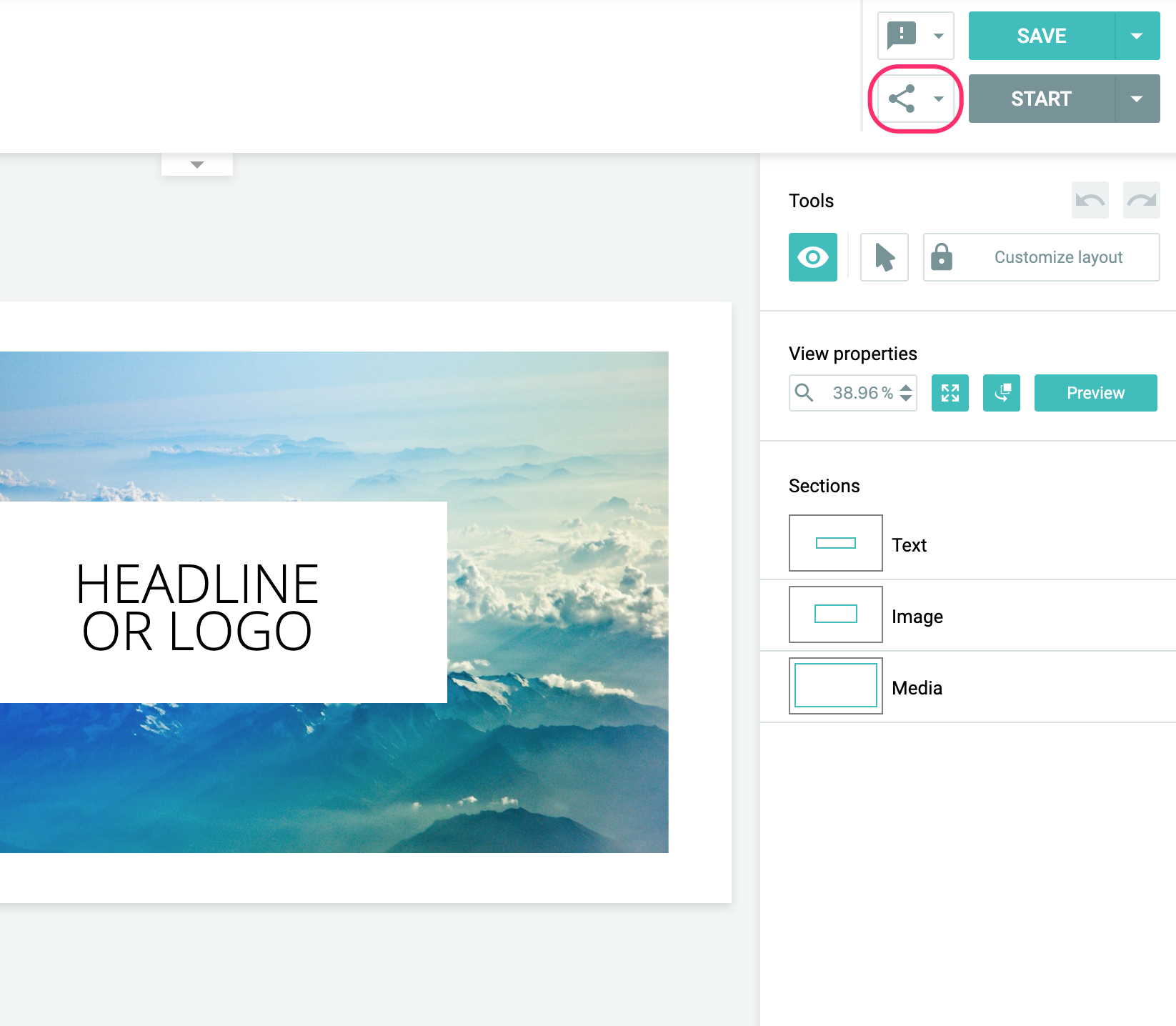 Here you have the possibility to share your presentation either as PDF or as interactive link. A PDF is a relatively static way to share your presentation, each slide will be a separate page in the document. Animations, clickable elements, videos and 3D objects can no longer be used interactively. But if you want to send all these elements interactively, click on "Share presentation". An overlay containing a link will be opened, which you can copy to your clipboard and send via multiple channels (mail, chat, etc.). The recipient then opens this link in his browser. He doesn't need an account to experience the presentation with all links, animations, media and documents! You can find out more about sharing a presentation here: Share presentation or here: Share presentations/sessions as a link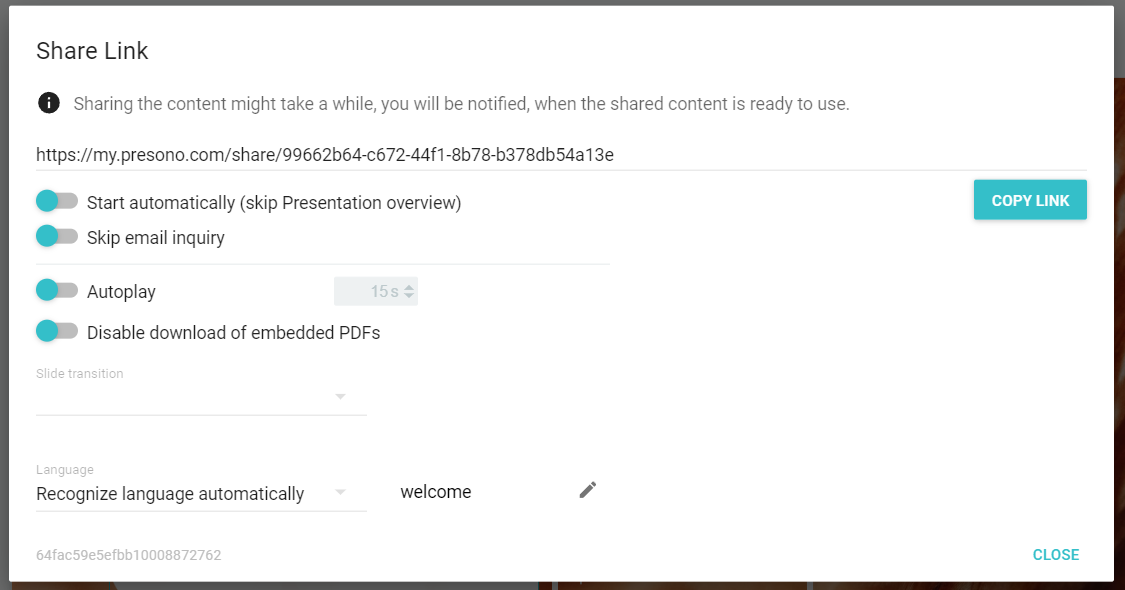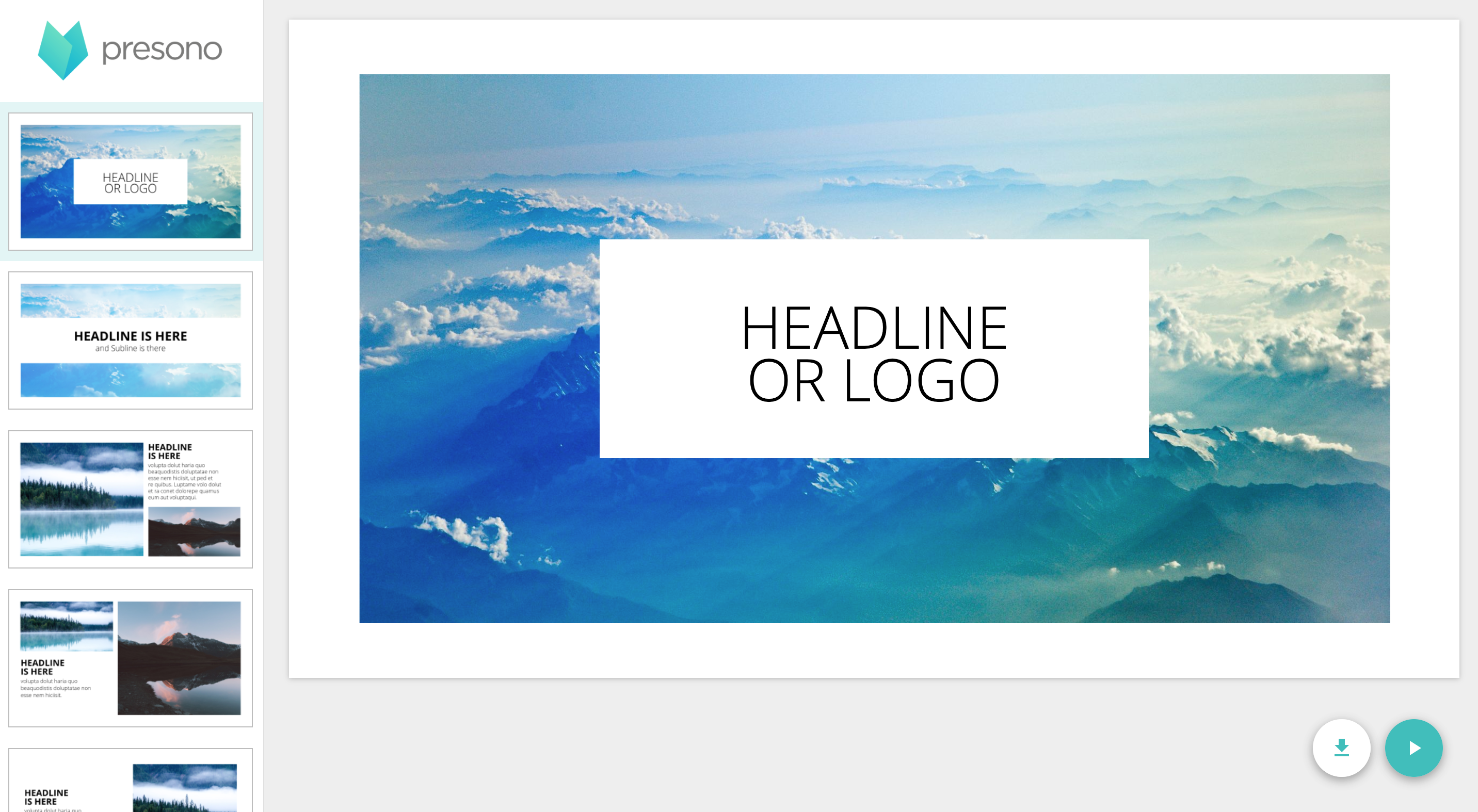 In the shared session only those links and contents are included which were actually shown. Only languages in which the presentation was held in is available. You can find out more about sharing a session here: Share Sessions
Duplicate presentations
If you want to duplicate a presentation, there are two possibilities. Either you click in the content structure (1) directly at the desired presentation on the three-point menu (2) and select "duplicate"(3). Then all you have to do is specify a title and a location to duplicate your presentation.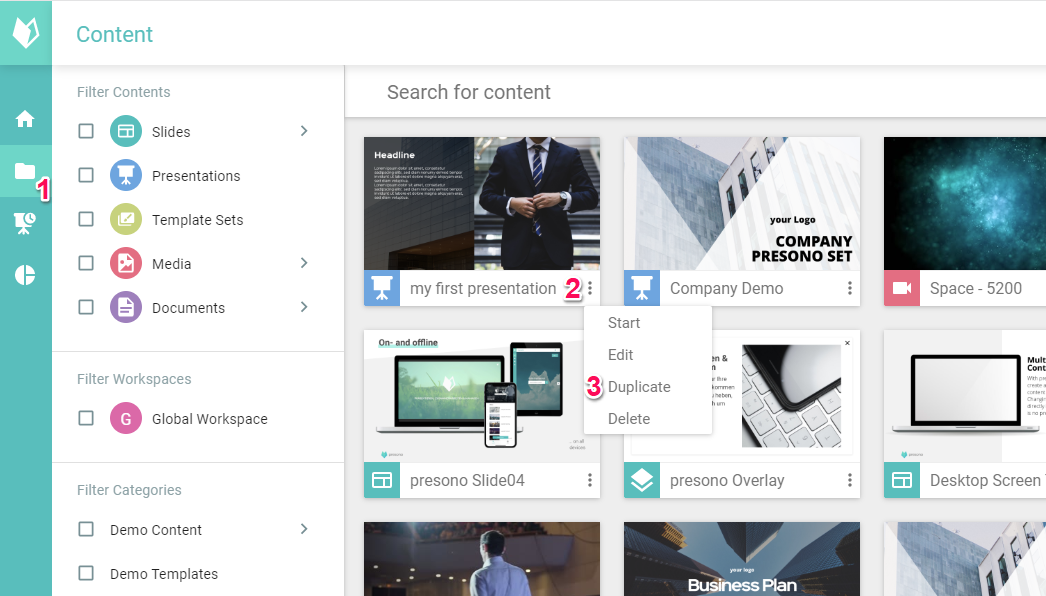 You can create a new presentation and insert your presentation. Select "New" in the content structure and then "Create new presentation". Then click on the plus symbol to insert slides. Here you can filter by presentations on the left (1) and select the whole presentation (2). Now you can click on "insert" (3) and save your presentation.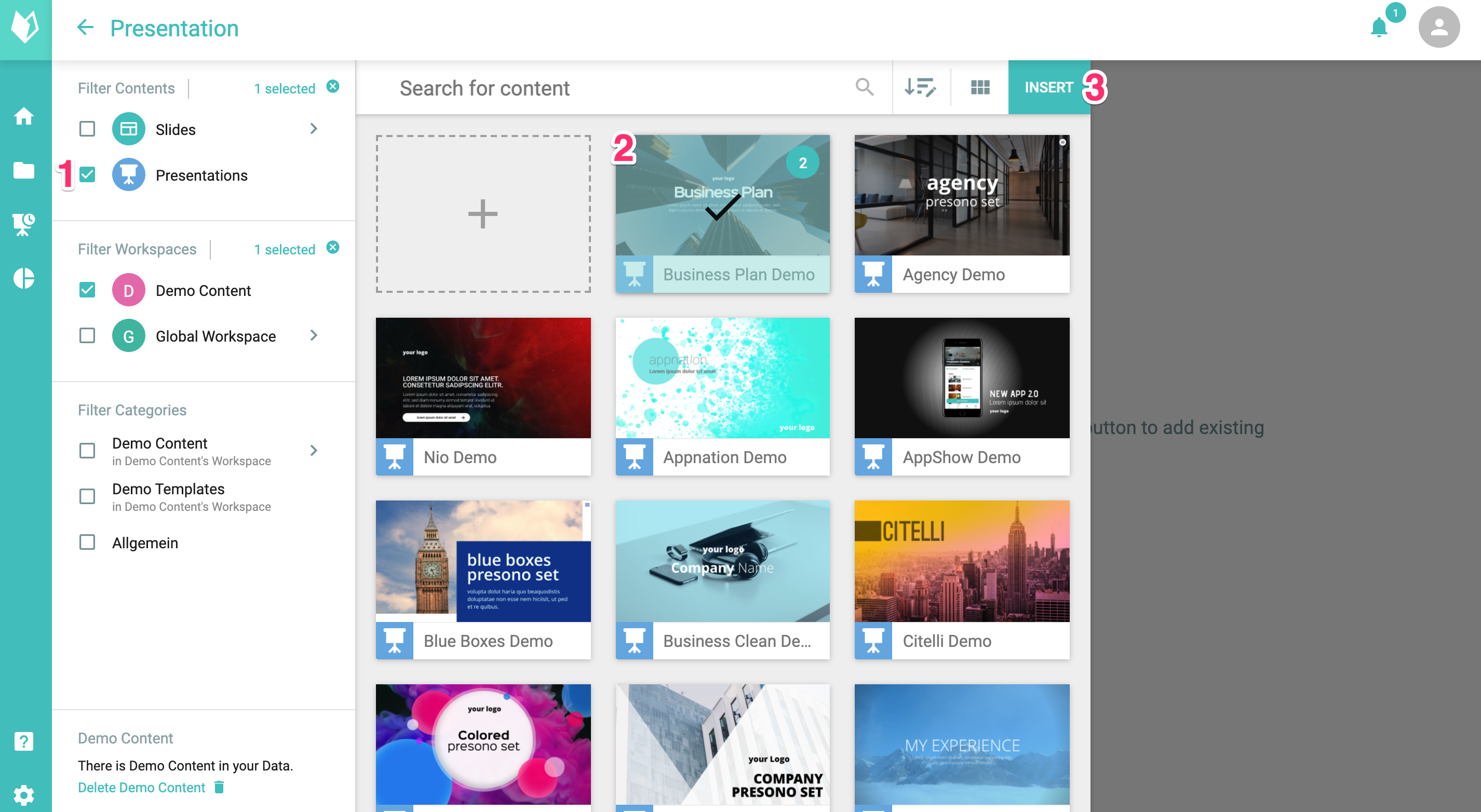 Please note: By duplicating your presentation, your slides won't be duplicated. If you edit a slide, the changes will also be applied to the original presentation.
Translating Presentations
Once you have translated your slides, you can also hold your presentation in several languages. You can also switch between languages before or during the presentation.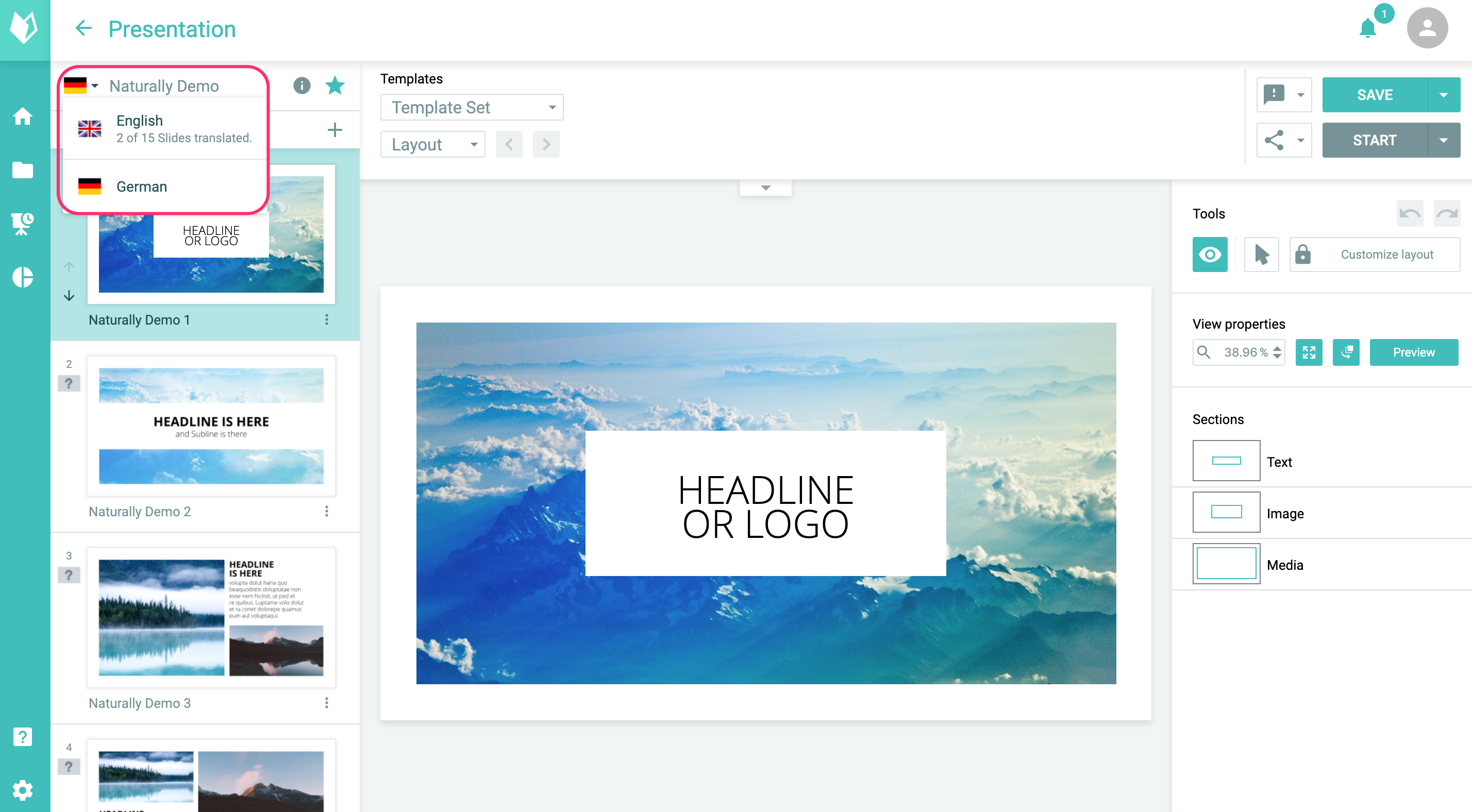 Learn how to translate your slides here: Translate slides. You can find out how to present your slides in other languages here: Present in other languages
Favor presentations
If you need a presentation very often and don't always want to search for it, you have the option of marking individual presentations as favorites. These will appear on your dashboard immediately after you log in. From there you can open the presentation or start it directly in full screen mode.
To mark a presentation as a favorite, you have to open it. Then you can click on the star icon at the top to add it to your favorites. If the star is filled in, the presentation is favored. If you click it again, you can of course undo it. If you now switch to the dashboard, you will see the presentation under your favorites. You can find out more about the dashboard here: Dashboard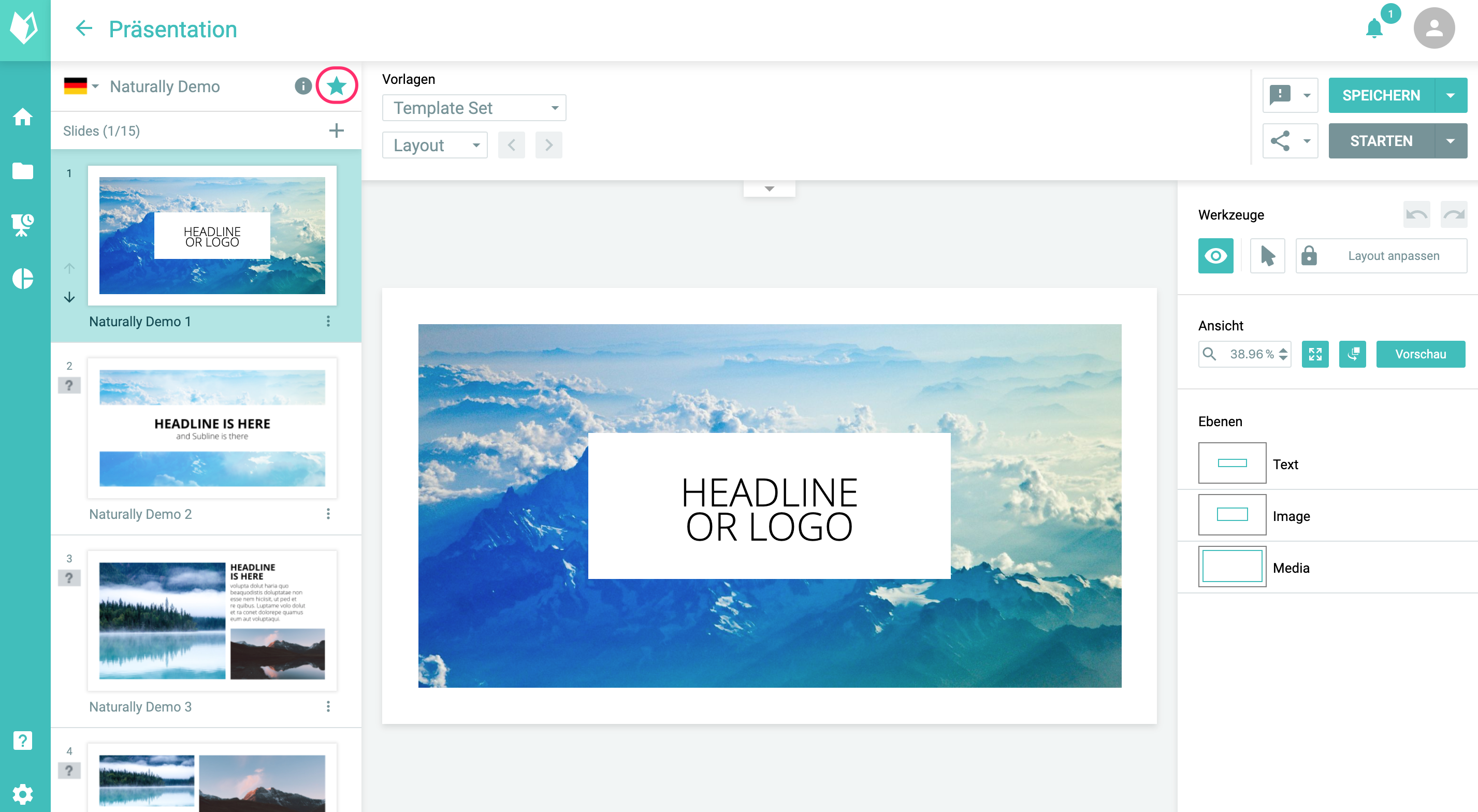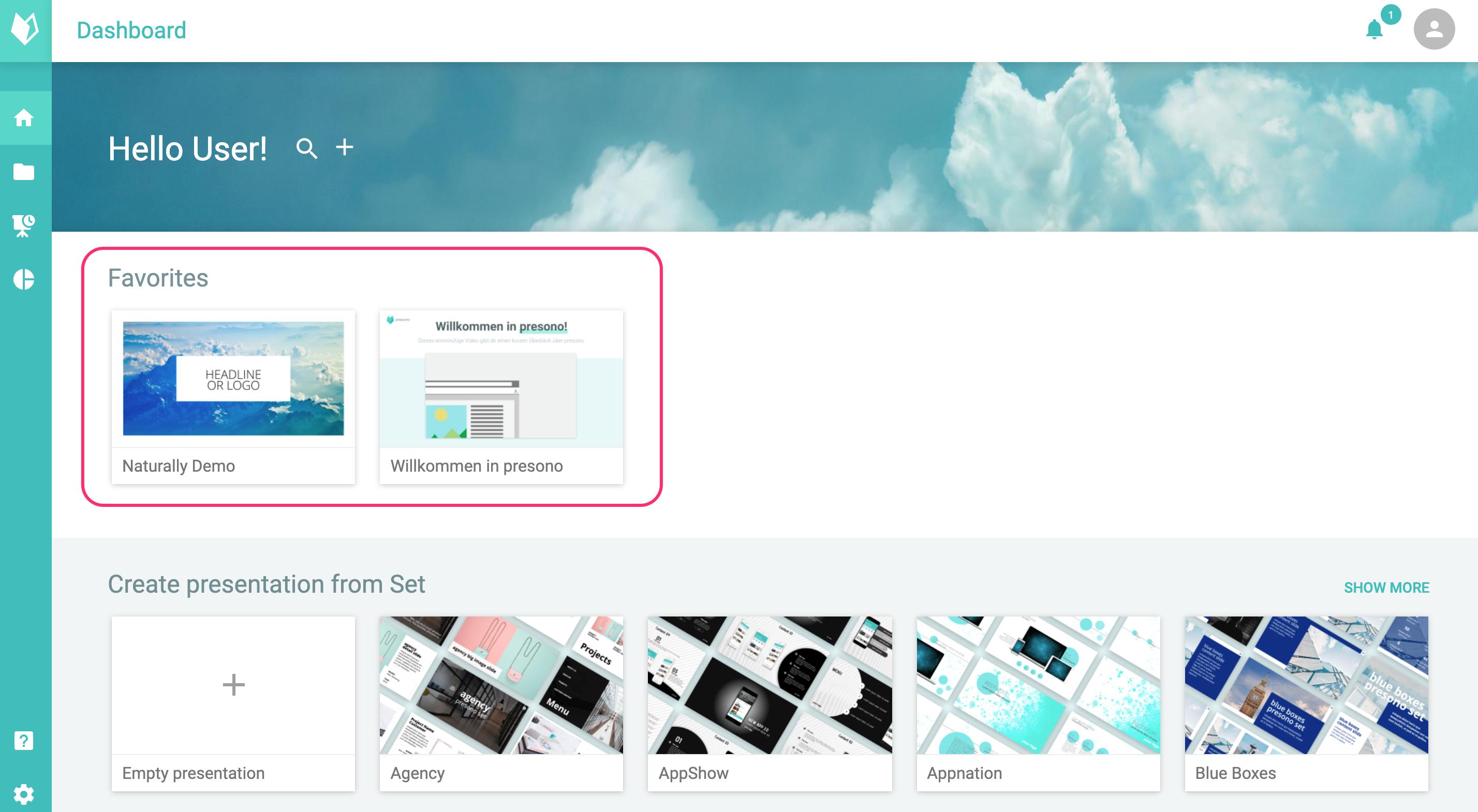 Delete Presentations
If you no longer need a presentation, you can of course delete it (if you are authorized to do so). Go to the content structure and search for the presentation. Then click on the three-point menu of the presentation you are looking for and choose "delete".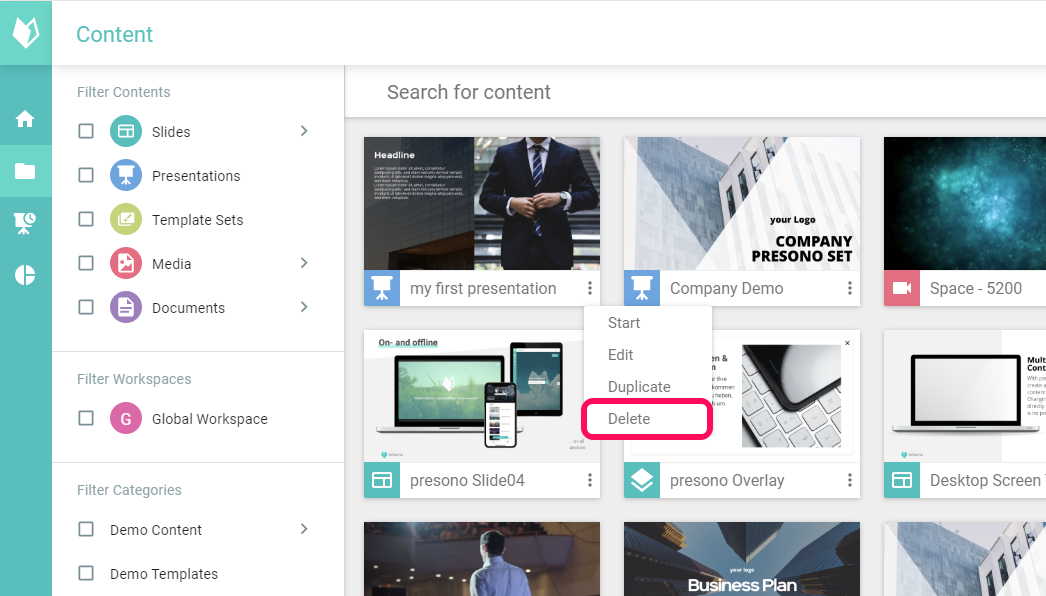 Don't worry, if you remove a presentation, the slides used are not deleted. The slides are still available in the system and can be used in other presentations.
You might also be interested in

:

Navigating through the presentation

Share presentations/sessions as a link
Why can't I delete the presentation?
This may be due to your access rights. You can only read the content and not edit it.